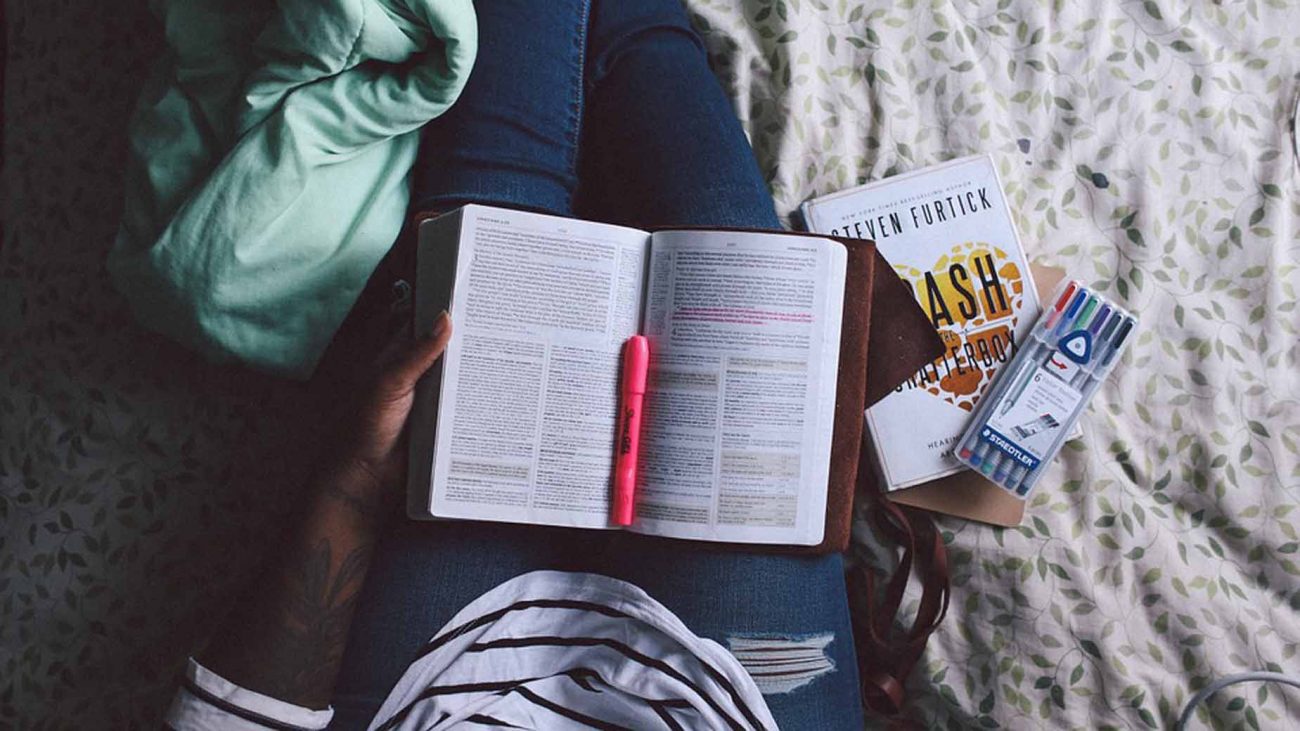 My daughter told me the other day about an app on her phone that is a daily timeline for breastfeeding. It literally outlines what a new mom can expect every single day starting with birth day when you are only producing colostrum, then through the next few weeks as your baby masters latching and you try (and try again) to master his gas issues. It eventually continues weekly through the months where you introduce baby food, then real food, then wean him off the breast.
My first thought was, "What a great resource!"
My second thought was, "I want a day-by-day guide like that … for LIFE!"
My third and final thought was, "I have one!"
It's my Bible—God's love letters to me. His own words, given generously and freely from His perfect and pure heart, to the 39 men who penned the 66 chapters of the Bible so that I would have a daily guide to everything I deal with on this earth. Everything I feel. Every trial. Every hope dashed and hope realized. Every opportunity I have to grow as a person and grow closer to God. Parenting, friendship, marriage, work, choices … it's all in there!
There was a time when I couldn't even read the Bible. I didn't understand it at all.
I grew up Catholic. I know some Catholic women who really love Jesus, but I personally never listened to a single word of a single sermon from birth through age 18 when I stopped going to mass. I strayed for the next 10-plus years, read some New Age books, tried a New Age church, and just generally didn't give God two seconds of thought.
If you had asked me during that time, I would have agreed wholeheartedly that Jesus is the Son of God and He was crucified, buried, and resurrected for our sins. I believed that. But I really had no clue what it meant to me and I didn't make any effort to figure it out.
I would occasionally pick up a Bible somewhere (I didn't own one myself) and try to read it, but it seemed like gibberish.
I later discovered the Bible actually tells us that it will seem like gibberish if we don't know God intimately! "The natural person does not accept the things of the Spirit of God, for they are folly to him, and he is not able to understand them because they are spiritually discerned" (1 Corinthians 2:14, ESV). In other words, we need His Spirit to teach us what the words of the Bible mean. And, as I found out eventually, the only way you get God's Spirit is through Jesus.
I started attending church again (this time not Catholic) when my baby girl was 6 weeks old. It was an Easter Sunday and I felt the tug of God on my heart, which had been stretched beyond imagining by my love for my little miracle. We continued attending for six years, but it was one of those churches that preached the importance of the faith of man, not the rescuing and redeeming work of Jesus on our behalf. The only person in the sanctuary with a Bible was the pastor.
The whole "have faith" thing helped when I was faced with a three-month job separation from my husband followed by a cross-country move to a place we'd never been and where we knew no one. But it wasn't until we were in our new home a few weeks and attended a neighborhood church and I heard for the first time the words, "Jesus wants a relationship with you," that I realized I had missed the point of the Bible all along. More importantly, I had missed the key that would open its truth and guidance to me: Jesus.
I needed to surrender my life to Jesus.
And I did that. And, suddenly, I could not get enough of the Bible. I loved it! I sat under our pastor's teaching three times a week for fun … and joined women's Bible studies … because it was fun! The Bible was alive! It provided everything I had been missing of God my entire life—everything about who He is, His love for us, His answers for life's questions (I always have so many) and His instructions to us.
Maybe you are searching for answers for questions you have and direction for decisions you need to make. They're in the Bible. Even if you don't know Jesus as your Savior, or anything about Him at all (although I guarantee He is wooing you if you are reading this story), there are some Bible verses that help you understand the Bible better. Here are a few to get you started:
The Bible is truth:
Every part of Scripture is God-breathed and useful one way or another—showing us truth, exposing our rebellion, correcting our mistakes, training us to live God's way. Through the Word we are put together and shaped up for the tasks God has for us. (2 Timothy 3:16-17, The Message)
Your word is consecrating truth. (John 17:17)
The sum of your word is truth, and every one of your righteous rules endures forever. (Psalm 119:160, ESV)
It's in Christ that you, once you heard the truth and believed it (this message of your salvation), found yourselves home free—signed, sealed, and delivered by the Holy Spirit. This signet from God is the first installment on what's coming, a reminder that we'll get everything God has planned for us, a praising and glorious life. (Ephesians 1:13-14, The Message)
God leads in truth:
Lead me in your truth and teach me, for you are the God of my salvation; for you I wait all the day long. (Psalm 25:5, ESV)
Send out your light and your truth; let them lead me; let them bring me to your holy hill and to your dwelling! (Psalm 43:3)
Teach me your way, O LORD, that I may walk in your truth; unite my heart to fear your name. (Psalm 86:11)
Jesus is truth:
And the Word became flesh and dwelt among us, and we have seen His glory, glory as of the only Son from the Father, full of grace and truth. (John 1:14 ESV)
The Bible is the best daily guide to all of life. For me, the only daily guide. If you are new to reading the Bible, and want to find what God says about specific issues, most Bibles have topical indexes in the back. There also are many books that list Bible verses to encourage you in areas like marriage, parenting, fear, discouragement, and grief.
Here are links to just a few:
Secure in the Storm: Scriptures for Your Time of Need 
199 Favorite Bible Verses for Women 
199 Favorite Bible Verses for Busy Moms
3000 Plus Beautiful Bible Verses and Amazing Christian Quotes: What The Bible Says About…
If you want to know more about the Bible and about Jesus, you can ask any of the writers at The Grit and Grace Project. We will be happy to open our hearts to you, and share God's daily guide to life with you.
The Bible is the best daily guide to all of life.
—
You'll also like How to Read Your Bible: For Beginners, Beginning Faith, and Chutes and Ladders—Are You Trying To Work Your Way to God?
#gritandgracelife