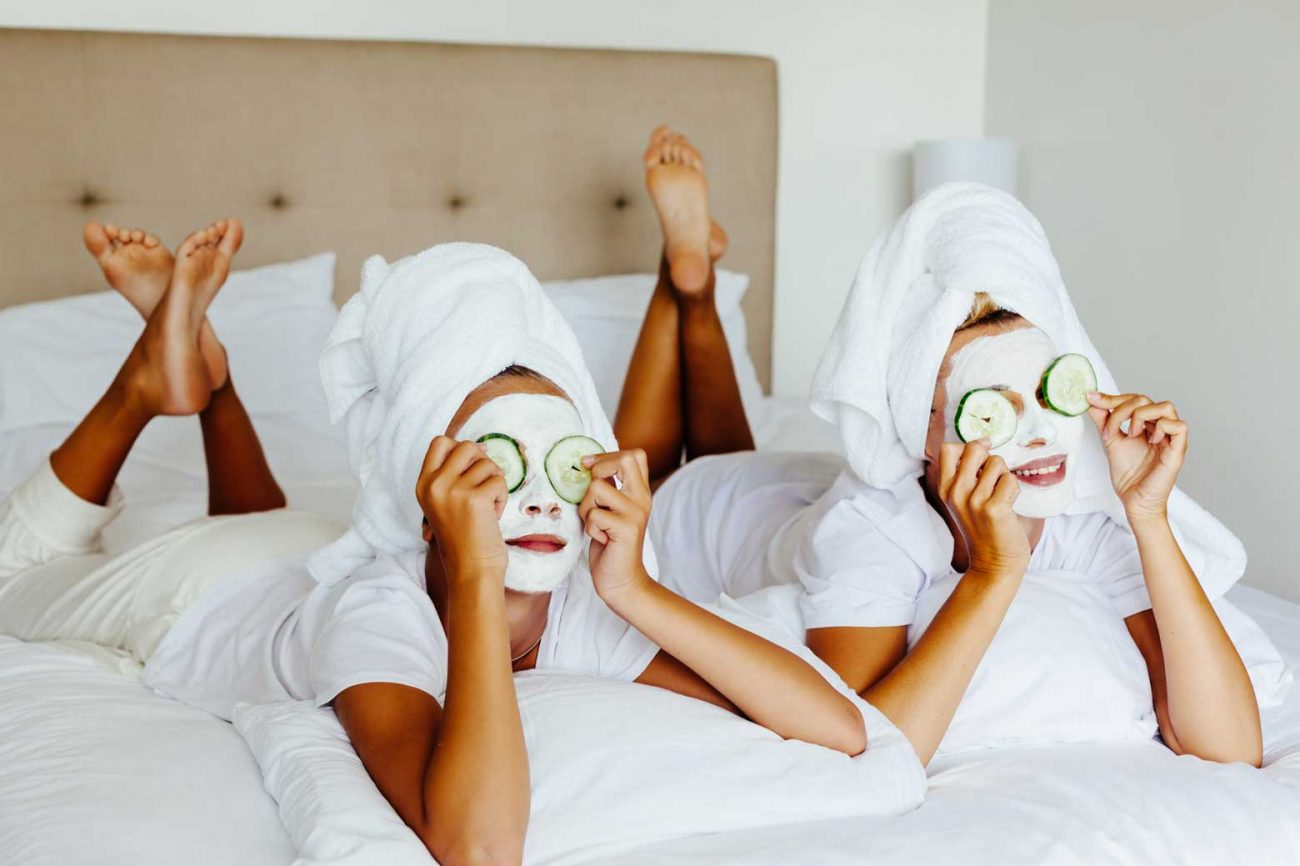 Growing up my mother would host little spa nights for me and my friends (that and tea parties were definitely her forte!). It wasn't until my honeymoon when I planned a day at a silent spa (yes, I said "silent"…I can hear all the introverts rejoicing!) for my husband that I fell in love with all things spa. Real talk though: spas are expensive and it's super fun to enjoy a spa with girlfriends in the comfort of your own home.
Side note—remember snacks, snacks, snacks! Cucumbers are fun to put on your eyes, but they're also fun in your water or a refreshing iced tea.
Here are a few tips to creating a fun, fabulous spa night:
1. Atmosphere
If the next few hours are going to include some head to toe pampering, you need to create the ultimate spa zone.
2. Steam
While none of us probably have an actual steam room in our home (my dream!), you can make a steam bath for your face to open up pores. Simply place a pot of water on your stovetop, bring to a rolling boil, and make a tent of sorts with a towel. You can even give each guest an individual mixing bowl with their favorite "mix-ins" as a personalized facial steam bath.
Consider adding fresh herbs like mint or rosemary. My favorite herbal facial steam combo includes a blend of comfrey leaf, chamomile, rose, calendula, and sweet orange essential oil.
Essential oils are a great addition, but be sure to read up on which ones are safe if you are pregnant or nursing.
3. Hair Mask
Hair masks can be great for replenishing needed minerals and giving some love to our over-treated, hot-styling-tool-exhausted locks. Some of these are great in helping to promote hair growth and creating a silky sheen! You'll want to put these on and let them sit while you pamper the rest of your body throughout the night.
You can do a hot oil treatment made with different oils found in your pantry. Just give it a quick search and you'll find some great ideas!
Or go for a mask made with food ingredients like egg yolks and avocado. Bananas are especially good for dry hair as well!
I recently discovered that castor oil is great for hair growth, especially for you post-partum mamas. Just beware, castor oil is the thickest oil I've used on my hair and I had to actually use an egg yolk in my hair to get all of it out even after shampoo!
4. Body and Facial Scrub
I should note that if you have extremely sensitive skin, I'd skip to #5 as far as your face goes. Some people's skin can only handle so much and perhaps a scrub and a facial mask could be too much! If you are sensitive like me, I'd just go for a full facial mask and save the scrub on your face for later as you don't want to irritate it. Body scrubs are great for exfoliation and diminishing blackheads.
Sugar scrub: Probably the most wildly shared on Pinterest, this simple scrub is simply made of white sugar and olive oil with optional essential oils.
Relaxing facial scrub: Here's a great sample recipe for this one. It includes white sugar, almond oil, vitamin e oil, vanilla extract, and lavender essential oil.
Coconut body scrub: I've used this recipe before and I love that it includes fruit zest! It leaves my skin feeling fresh and smelling great! You can also make these scrub cubes ahead of time for ease!
You can also make up your own recipe using any blend of oils with coffee or brown sugar and even honey and herbs! Try whipping up your scrub with cocoa butter too. I also like to throw in some optional magnesium flakes for restless legs at night.
…it's super fun to enjoy a spa with girlfriends in the comfort of your own home.
5. Face Mask
Depending on your skin type and also how your skin is looking/feeling on this day will help you decide which mask is best for you! I alternate between a Bentonite Clay/ACV mask and a Manuka honey depending on if I need pores cleared or moisturized.
Bentonite Clay: You can mix this clay with water or apple cider vinegar. This clay is unique as its electrical components change when it comes into contact with liquid which allows it to absorb and remove toxins, heavy metals, impurities, and chemicals. Learn more about the benefits here.
Manuka Honey: This magical honey is from the Manuka shrub found in New Zealand. When purchased raw it can work to heal acne, repair your skin, hydrate, and offer your skin some much needed B and C Vitamins.
Additional Ideas: Use honey, plain yogurt, or whipped egg whites by themselves or in combination for a great toning facial mask that will leave your skin glowing. Another favorite item to add to face masks is turmeric as it has anti-inflammatory properties for my puffy, tired face! A component of turmeric called curcumin has even recently been recognized as a very impressive cancer treatment.
One mask I've yet to try (but am excited to!) is a Vitamin C face mask. You can mix ascorbic acid with either Vitamin C or glycerin, just be sure there are no fillers in your products.
6. Foot Bath (Or a full bath if it's just a spa night for yourself!)
Soaking baths are my fav! It was a requirement on my honeymoon that every hotel room have a bath and we stayed in a magical hotel in Napa whose bathtub was right next to the bed—fancy! These baths can be good for all over skin or just your feet!
A simple soaking bath for full body can include coconut milk, almond oil, and essential oils. Adding oats can help soothe skin. I love a good book if I'm by myself or some simple meditation.
For a citrus mint hand and foot soak, simply fill a bowl with hot water, add slices of grapefruit, lemon, lime, and add fresh mint leaves and Epsom salts to relax your tired and aching muscles.
To remove dead skin try an olive oil and milk foot soak. Milk is known for its lactic acid which helps fight bacterial growth and serves as a natural exfoliator. The addition of baking soda can also serve as a sort of pumice stone because of its abrasiveness, helping dead skin come off.
Need a full detox? We mentioned bentonite clay above for a facial mask, but remember this draws toxins and other impurities out of your body. Add in some ACV and tree tree oil and you've got a powerful soak that will pull out toxins while helping as an anti-fungal!
For a herbal foot soak, this one includes all of my favorite scents and is great as a little gift for your friends to take home!
7. Nail treatment
I'm personally not the kind of girl that goes to a salon to get her nails manicured (I like them too short!) but I do like to look after my cuticles and nailbeds. Try any of these options for beautiful, strong nails and cuticles! Feel free to add painting your nails into this step!
Vitamin E oil. This oil can be taken in capsule form as a daily supplement, but after a quick soak your nails will be looking stronger in no time!
Flaxseed oil. This oil is full of essential fatty acids and minerals that can promote faster, stronger growth of the nail.
Olive oil and lemon. This combo brings antioxidant Vitamin C to protect your nails, remove stains, and encourage stronger growth
8. Relax!
Now it's probably about time for your face mask to be rinsed off, your hair rinsed out, and your body wrapped up in a nice, plush robe. If you were smart, you likely told your lady friends to come sans makeup in pj's or a comfy robe. Now's a great time to catch up on life, watch a quick episode of Friends, sip some wine, and maybe even apply a nice body butter. Sit back, relax, and feel pampered!
DIY's don't have to be hard, and you can find lots of these items in your own kitchen or pantry. Get creative if you don't have all the supplies. I've been known to mix leftover breastmilk with oats for a quick facemask in a pinch, no joke! And remember, you don't have to do it all in one night. Pick and choose what works for you—just remember to have fun!
—
You'll also like How to Survive a Party (for the Introvert), Makeup Hack: Essential Oils and Mascara, How To DIY Manicure, 5 Everyday Essential Oils for Beginners, and Natural Items for the Crunchy Girl (in the Bedroom)
#gritandgracelife