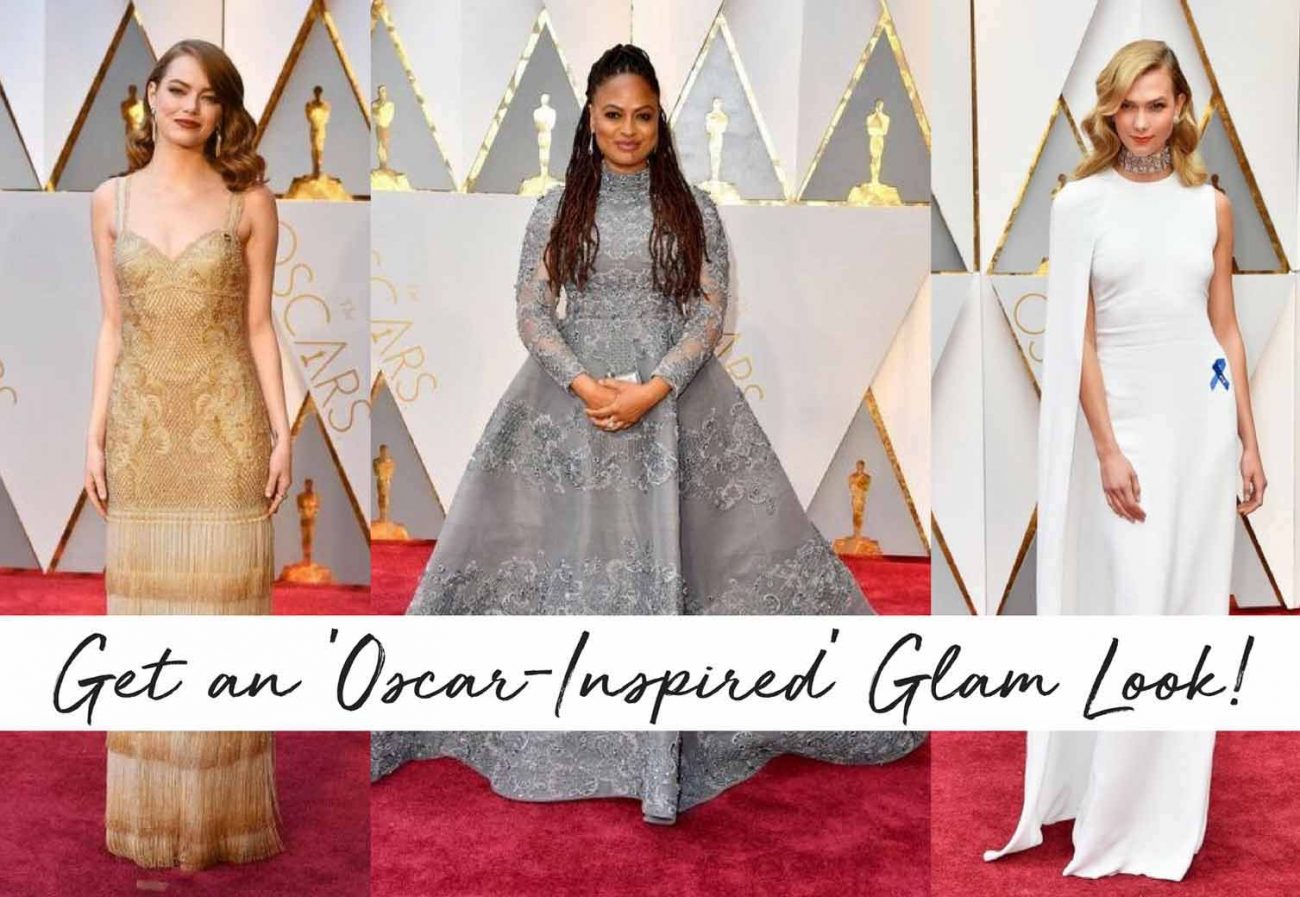 The Oscars 2017 has come and gone, but the celebs' inspiring, high-fashion looks can still leave a lasting mark on your own wardrobe. I'll be sharing head-to-toe styling tips on how to get that glamorous, red-carpet-ready look for upcoming events (even weddings!) that require star-worthy primping.
Hair: If your wardrobe has eye-catching detailing, sparkle on the shoulders, or an ornate neckline, wear an updo so the details can speak for themselves. You don't want to over-complicate a look! (Jessica Biel is the perfect example for this tip in her gold gown below.) Conversely, strapless or more classic outfits are perfect for a blowout or any hairstyle with your hair down. (Check out Leslie Mann's breathtaking blowout below.)
Makeup: You have one of two options—go lighter on the eye makeup and rock a bold red or brown lip, or rock a smoky eye with a nude lip! The Oscars stars debuted these two gorgeous looks on the red carpet this year. (For a beautiful example of a lighter eye with a bold lip, see the photo below of Miranda Kerr. You'll also find a photo of Taylor Swift rocking the smokey eye and nude lip.)
Dress/Pantsuit/Etc: On the red carpet of The Oscars 2017, many of the stars' dresses were reminiscent of two fashionable decades: the 20s and the 50s. You can never go wrong with a vintage inspired wardrobe! (See the timeless looks of Ava Duvernay, Emma Stone, and Karlie Kloss!)
Shoes: One of the biggest trends on the red carpet this year is barely-there heels. A simple, neutral color with a thinly strapped heel around the ankle and over the toes is a classic statement that flows effortlessly with whatever you choose to wear—whether it's a dress, pantsuit, two-piece set … the list goes on! (Katharine McPhee nails this in her sleek, sophisticated look below.)
Accessories: Your accessories should be chosen carefully. If your choice of wardrobe involves many details around the shoulders and the neckline, opt for a pair of statement earrings and an updo (see swoon-worthy hair photos). This way, the details in your wardrobe will make their own statement and won't look chaotic. If you are wearing a classic piece with thin, simple straps or if it is strapless, feel free to have fun with bolder baubles and leave your hair down—or up! Classic pieces give you more freedom in choosing from a wider range of jewelry and hairstyles. For a dressier event, always bring along a clutch and only bring your basic necessities which include (more or less) your keys, I.D., phone, and lipstick!
And there you have it—a complete how-to on "wowing" at any important event that calls for some extra glam. Keep in mind, however, that this how-to is more versatile than you think and is not exclusively meant for those attending a formal event. You can refer to this how-to for a girls' night out or a date night—i.e. makeup, shoe, and hair tips!
Cheers to the Oscars 2017 fashion icons for giving us style inspiration that we can use, reuse, and re-imagine all year long!
—
You'll also like How to Wear White Jeans All Year-Round, 3 Pieces Every Millennial Needs in Her Closet, How to Pick the Perfect Shade of Red for Every Skin Tone, What to Wear on a First Date, How to Prepare for a Lifestyle Photo Shoot
#gritandgracelife