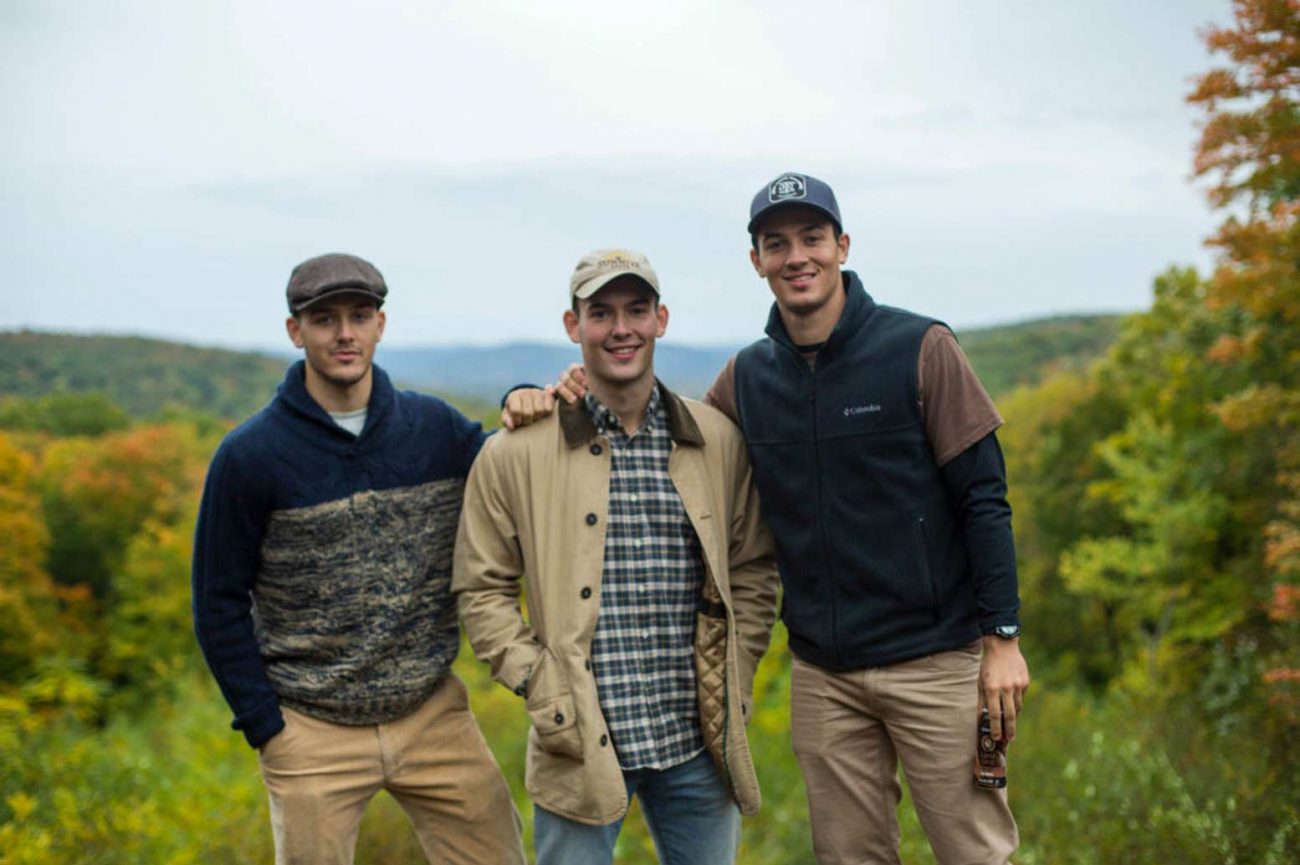 It's often said that a mother's job is never done. For Kierstin DeCicco, she believed she would be on a downhill run after her oldest, Jimmy, had played football for Colgate University, graduated, and was working in New York City in the real estate industry. Her middle son, Jake, was a junior, prepping for one more year playing football at Georgetown University. And her youngest, Jordan, was a freshman playing basketball on a full scholarship to Philadelphia University.
Kierstin had all three talented, competitive hustlers out of the nest and well on their way to the life every parent dreams of for their children. She was looking forward to her last four years as a fan mom, cheering Jordan and Jake on.
I connected with Kierstin recently to interview her and she said that what she didn't see coming was receiving a phone call that Jordan was dropping out of school, giving up his 55k, full ride to college, Jimmy was quitting his job, and Jake was going to graduate GU, but not pursuing his original ambition to work on Wall Street. All three of her sons decided to go into business together and sell coffee. But the DeCicco brothers can't do anything mediocre. They wouldn't gamble successful and stable future careers for any average dream. It would have to be something…super.
As athletes, they grew up conscious about the type of fuel they put into their bodies and Jordan became exhausted by the lack of options available to him for sustainable energy without all the sugar. So without Kierstin's knowledge, he used her credit card entrusted to him for emergency purposes. To Jordan, it was. He saw a desperate need to stay awake in class after 5 am practices. He purchased a blender, coffee, protein powder, and other ingredients, getting to work creating the world's first Super Coffee and called it Sunniva, meaning—gift from the sun.
After a quick lecture from Kierstin about the misuse of her credit card, Jordan thought he could reassure her concerns by telling her that he was beginning to sell his creation and she'd have her money back soon. But Jordan couldn't settle for selling Super Coffee to his teammates and close friends, he realized that coffee is the life source for the next generation. He saw an opportunity in the market, a missing product on the shelves of the beverage industry, and the chance to power people's passions throughout their daily grinds.
Extremely hesitant, nervous, and concerned for not one, but all three of her children, she watched them grow and nurture a start-up business similar to the way she raised them. Despite her firm belief in the pursuit, and completion, of a four-year degree, Kierstin found some peace in her son's passion and persuasion when Jordan said, "If I don't do this now, it will never happen, and it needs to happen. Please trust me." A house rule for the DeCicco brothers is, "No bad vibes." They simply ask their mom a (not so simple) request for love and good vibes only. Even if, or when, she's worried.
Even though Kierstin was scared for her son's vision and feared he was making what could have been a huge mistake, Jordan showed the same, if not more, drive that he had on the court. Her heart knew Jordan could do anything he put his mind to. And with the help of his two older brothers, he did exactly that. They became an unbeatable team.
"Seeing the love, trust, and respect my three boys have for each other," has been Kierstin's most rewarding part as her sons have learned more in the last two years than, she admits, any institution could have ever taught them. "They are bringing out the best in each other, and others, along this journey."
Sunniva Super Coffee is a low carb, low calorie, zero sugar energy drink brewed from organic Columbian coffee beans, fats from coconut oil, protein powder, and now, with a new and improved recipe, monk fruit. A healthy, better-for-you option for coffee lovers everywhere.
Kierstin realized her sons were truly having a positive impact on people when she helped Jimmy at a Sunniva table watching Jake play one of his last games. Even without being in stores yet, she saw people fall in love with her son's product and the story of how it was created.
"Kids have to believe in themselves. And if we teach them that from the beginning, everything else falls into place. Confidence and self-esteem are big concepts, but if we keep it simple, focus on all the little things they do really well every day, our kids will grow from there."
Today, Super Coffee can be found at over 100 colleges and universities nationwide, sold online, and available through Amazon, in Whole Foods, in Wegmans, and in Wawa. Sunniva has been featured on Good Morning America, listed as 2018 top favorite products on Pinterest, and most recently aired on Shark Tank.
Jimmy DeCicco, oldest brother, and CEO, believes in the hustle, and the grit, and the confidence that "When you're passionate about something, you'll figure it out." But he, and his brothers, know that Kierstin's positive and encouraging influence as children, and even now, make them feel strong and loved.
"When our mom used to drop us off at kindergarten every morning, she would say, 'I love you guys. Now go kick today's ass.'" —The DeCicco Brothers
Other than looking forward to a family vacation this summer, Kierstin was asked what she believed would be next on the horizon for the DeCicco family. She said, "Who knows, but as the boys always say, 'the best is yet to come!'"
Shop SUNNIVA Super Coffee here!
—
You'll also like That One Time I Thought I Was Being a Good Mom, Parenting Adult Children—The Great Shift of Motherhood, An Unexpected, Wonderful Moment on Your Son's Wedding Day, Are You Typecasting Your Children and Limiting Their Abilities?, and 5 Simple Ways to Be a Dreamer and a Doer.
#gritandgracelife