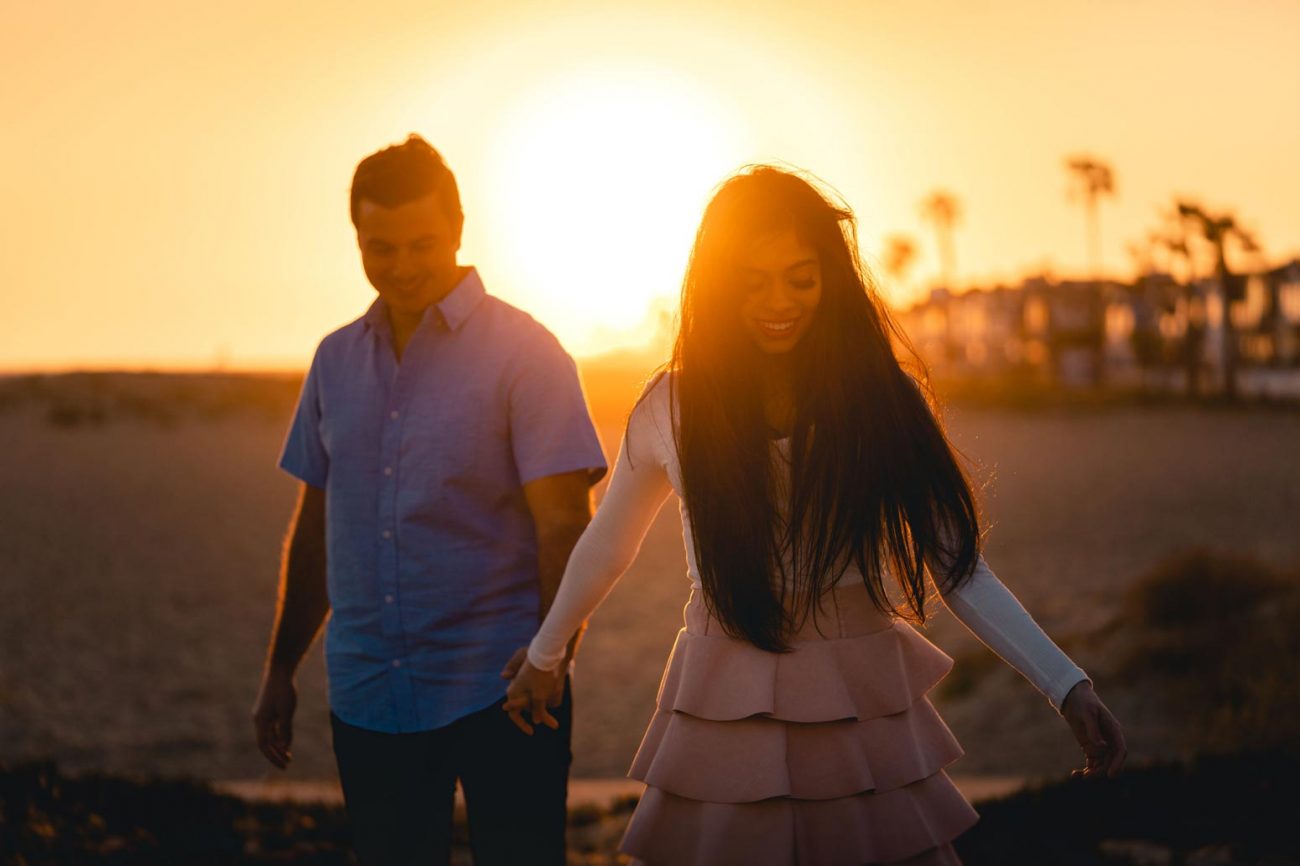 It was December 2018. I was standing on the tarmac, waiting to board my airplane at Long Beach Airport in California. Next stop? JFK. It was a Sunday, and I had work the next day. My days start at 5 in the morning and sort of never end. I had one option all of a sudden. I felt my feet back up, the direction of my roller suitcase changed, and suddenly I was about to run off the ramp and back into the airport, never again to return to New York City. It was like wild horses took over my soul. I was in love, engaged, and I had options. I wanted a new beginning together. I wanted to start over. I wanted to stay here with him rather than continue on with our long-distance relationship. All of a sudden my daydream was awakened by a woman behind me who I almost knocked over. "Are you getting on this plane or what?" she asked. I turned back around and got on board.
See, that's the thing about love. The wild horses are always going to be dragging you in a million directions. But the thing that has always made me special was my ability to tame them. I have always been extremely logical and well thought out. I am deliberate and planned. I am structured and refined. I am traditional. So when my now fiancé told me he was taking a job in California about a year before we were engaged, I told him, "So long." I feel like most women would have. I was not ready to leave home, my job, my friends. I let him go, but the crazy thing about love is, you really can't stop the beat. Sometimes, you can't stop the horses from trampling, but you most certainly can ride them in the direction you choose. Don't forget that, ladies. Being in love does not mean losing control.
I got back on that plane in December because I am a woman, not a girl. I was thrown from the horse that moment boarding the plane, and I grabbed the reins and hopped back on. I had things to do, people to answer to, and children to teach. I had tradition in my heart. For tradition holds the burning secret and answers we all want. When we follow tradition, there is a certain build-up to be anticipated, and an incredible light at the end of the tunnel.
Build beauty into the life you want.
My fiancé, Matt, a sweet 30-something cardiologist, is my very first serious relationship. Most girls find themselves in serious relationships in their teens and early 20s. Not me. I lived those years. I studied, found myself, got a master's degree, wrote books, built a business, got a teaching job, and so much more. I became Danica Mendez in the years most girls seem to question themselves and change. I did not want to co-exist with someone in those years; I wanted to build my foundation. Being a late bloomer is awesome. I never had a boyfriend I shared an apartment with. I never dated and lived in the same residence as a man for years and years and years. That is why my engagement is so exciting! It really is the start of everything! There is nothing wrong with paths that are different from my own. I am just so proud of my journey and I feel really rare!
When Matt proposed to me in August of 2018, he knew I was not going to leave the school at which I signed on to teach. I was not going to quit what I had started, and just as he was working on his career, I was working on mine… and he understood that. So many nights we would be exhausted on the phone after working 12-hour days. He is a doctor who saves lives, and I am a teacher who changes them. We've never had a light work day and probably never will. We have so much respect for one another, and I am also very proud of myself, too. I didn't go run and chase someone across the country to live in their shadow. And most importantly, I wear the ring of a man who never expected me to. Tradition, in a sense, has brought me the structure that I needed to find the beauty in absence, in memories, in communication, and in true, patient love. How many women can say they actually kept it all while chasing it?
Now here is the hard stuff: people's opinions.
Everyone has something to say about everything. Being a person who has an Instagram account with, well, tens of thousands of followers,
I constantly feel the scrutiny (follow her here!). I get messages and comments that are… a little… awful, and I would be lying to you if I said they didn't impact how I see myself and my relationship. I love when people engage with me, but then they started tagging Matt in comments, which was really nice—when the comments were nice. Suddenly a few of them turned quite ugly, and Matt was getting messages, too.
He has always been incredibly respectful of my Instagram account, but we found ourselves talking about what would happen if I just quit it all and gave up the social media influencer life. I didn't like having these conversations because I felt like Instagram wasn't the entire reflection of me. But here I was having to consider another person, too.
When I say "giving it all up," it's actually quite interesting. It all might actually be considered nothing to most, and those people are blessed. When I say that I want to throw my hands up from social media, I mean giving up this incredible amount of attention that has ultimately changed me for better and worse. The bigger the audience watching you, the longer you want to stay on stage. I love applause, which has always been my weakness. I love the eyes and the ears attached to the things I do and say. But falling in love gave me a new audience, an audience of just one. And I can tap dance, stand on my head, ride a unicycle with a monkey on my back—anything to keep him watching and guessing. However, once you have the bug you have it for life, and it's just a matter of time before one misses the echo of a big theater. What an interesting predicament: to care only for the opinion of one yet crave the curiosity of all.
Tradition, turned trend, made controversy.
But it can be tiring… We have to be perfect. I have to be perfect. Their kind of perfect. My kind of perfect is lying on the couch watching a science show with Matt on a Saturday morning. People's kind of perfect is watching Matt go to NYFW with me, or be VIP at a Lakers game, or be seen here and there—where all the see and be seeners seem to go. We had to take over both coasts. We had to be interesting. It's exhausting… Simply putting on all the fake lashes for the events became daunting. Nobody saw the late nights singing by the piano with no makeup. Nobody saw the pranks and laughs.
Where is that tradition now? I felt like I no longer had it; I become the trend. People had so much to say. I was too over the top. I was too excited. I was not private enough. I was too proud. "Matt must be tired of someone with that much going on." "Where is your ring, Danica?" "How come she is not wearing it?" Heaven forbid I took it off for a minute. I was the tradition, turned trend, made controversy. I walked right into Ono. And I walked right out.
You are not as much of a victim of circumstance as you think.
I remember studying the story of Nehemiah in "the plain of Ono." Nehemiah never took the bait; he never listened to the mocking sounds of others. He remained focused and continued to rebuild the walls of Jerusalem. When I was standing on that tarmac in December, I knew I had to stick with my plan. Ono became, "Oh no you don't, Danica. Stay on the horse, not under their hooves." When I read the negative comments or hear the judgment in people's tones, "Oh no you don't, Danica. Don't make their negativity your burden." When I find out what someone says about me behind my back, "Oh no you don't, Danica. Don't let them rent space in your head!" You must keep building the things that set your soul on fire. But remember, you can't build on land that is not stable. Tradition, following the order of things, being patient and compromising—those traits give you the gifts circumstance can never take away.
So, next time you hear someone trying to deter you, next time you become impatient with yourself and feel the pressure from others, next time you doubt a gift from God—rise up. Get on that horse and ride it to where you want to go. Don't be afraid to read the handwriting on the walls. Don't be afraid to be the handwriting either. Block the noise out and ride your horse. You earned those reins.
Want to follow Danica? Find her on Instagram here!
Photo by Joseph Barber Photography.
—
For more stories from strong women like this, check out:
Love the Life You Have Today: Here's How
How Do I Know What Defines Me?
My Life Is a Canvas, God Is the Painter
How to Become the Woman You Want to Be
True Beauty is Found in a Woman's Strength

Don't miss these popular articles:
Anatomy of a Strong Woman
What to Do When He Didn't Propose (But Should Have)
How to Be a Leader You Can Be Proud Of
8 Things Moms Should Say to Raise Strong Kids
You Don't Have to Be Strong All by Yourself
Skillet's Korey Cooper Talks About Marriage, Motherhood, and Rock 'n' Roll
#gritandgracelife

You'll love this podcast episode from This Grit and Grace Life: Overcome These 5 Struggles and Live a Grit + Grace Life – 088!