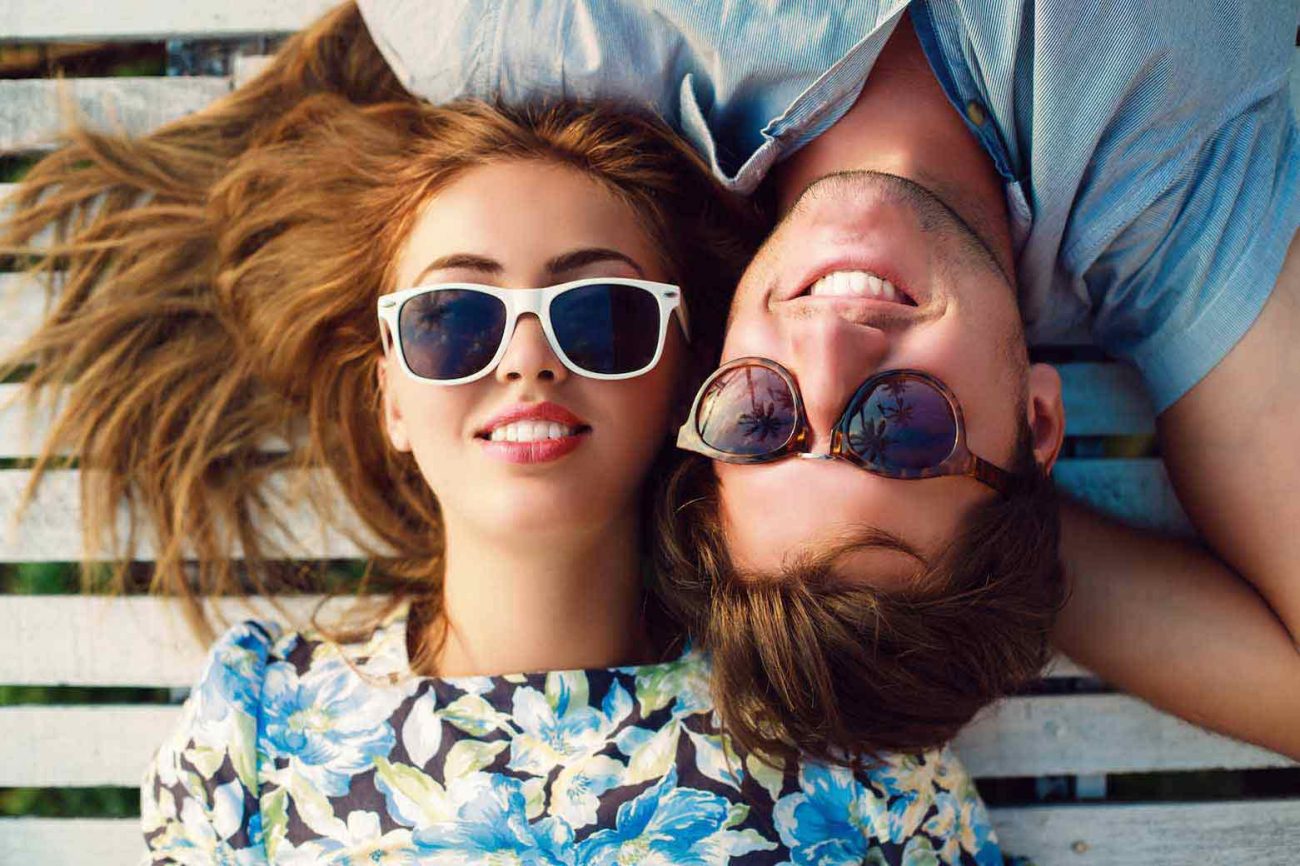 You may have seen it … the sappy posts and pictures slathered all over your Facebook newsfeed for the "Love Your Spouse Challenge" a while back. Couples were tagged and encouraged to post about their love for each other, and then they were to tag others in order to "keep spreading the love." After finally giving in, the notion that I would maybe earn some brownie points with my husband slowly turned into some cathartic ramblings about the masterful mess we were as a couple. In hopes that you could maybe relate, I thought I would share some of my personal wanderings down memory lane and show you how two naïve people have become two naïve people … with a mortgage and kids.
Boy Meets Girl … at Waffle House.
It all began over chocolate chip pancakes and stale, decaf coffee. Our first "outing" (my husband still refuses to call it a "date") was to Waffle House. It was 2:00 A.M. during midterms week, and I had already been sleeping for a few hours thanks to my responsible bedtime of 10:30 P.M. I got a text from my crush: "Are you awake?" For him, of course I was! I quickly changed out of my old Little Mermaid t-shirt into a purple velour Juicy sweat suit, put on some blush and mascara, curled a few pieces of hair for the "I woke up like this" look. He picked me up, looked curiously at what I was wearing, then we talked for hours, made plans to meet again for lunch, and he paid (but still, not a date).
If you were to rewind a few months, you'd understand my insane giddiness over this Waffle House "outing." I had admired him from afar. I prayed every day I would just "happen" to cross him on the brick and ivy path when he came out of the science building. I was forced to face my feelings for him during a college beach retreat when I watched him pass an orange from person to person only using his chin and neck and thought, "oh, to be that orange!" I'm not sure if it was his wardrobe of only Billabong or Hurley t-shirts, his goatee, or his cool personality, but I was smitten.
Once we started going on more "outings," it all started—the pretending to be interested in everything the other was into. I even pretended I could play tennis (FYI: you cannot pretend to be good at tennis), was into sports, liked corned beef, and was a Billy Joel and Yankees fan. How I miss this phase of our relationship: the awkwardness in getting to learn each other over College Coffee and "study sessions" at the library that just consisted of flirting and trying not to be too distracted by his cute freckle under his right eye or his handsome smile.
Now, if there is any milestone or celebration to be had, you can find the Gordon's at our local Waffle House.
Boy Asks Girl Out.
Our dating relationship … I loved this season of "us." I never liked the guessing game of "does he like me?" or "how long should I give it before I call him back? Am I coming on too strong?" So, once he officially asked me out while watching the movie, Oceans 12 ("Hey, so should we make this official so your dad will stop calling me 'Carolyn's special friend from college'?"), I knew he was it. Everything was "we"—"We like to do this … We aren't free tonight." We had a nickname: "Davolyn." We were nauseatingly obsessed with each other.
It was only a mere six days after his romantic courting proposition when he told me he loved me. It took place during another second-rate sequel, Rush Hour 2. During a Jackie Chan fight scene I heard a mumbled whisper in my ear. "Huh?" … another mumbled whisper … "Huh? I can't understand what you're saying!" More clearly he calmly replied, "I love you." I was baffled at his (awful) timing. This, this is the moment I get to tell our children about?
Our first I love you's should've been a sign that we wouldn't always be on the same wavelength. We wouldn't always be feeling the same things at the same time. We would pick the wrong times to say the right words.
Because of our obsession with each other, it didn't take long for our fights to start. They were mainly about us "not spending enough time together" (Ha! If only those versions of ourselves knew how little time we would have together once we had kids!). Our fights were mainly read-between-the-lines sarcasm or silly ultimatums … maybe not something worthy of a chart-topping Taylor Swift song. Our fights are still silly, selfish, button-pushing, and so many times I wonder "why are we even fighting about this?" I'm working on my fighting, trying to be more aware of the hurtful words trying to catapult their way off my tongue, but there are moments when my mouth is quicker than my heart. I know there will be a day when my post-pregnancy hormone card will expire, but, thankfully, David's grace card has a very high spending limit.
Boy Gives Girl a Ring.
Our engagement came as no surprise. We had many talks about our engagement, but we were also individually working behind the scenes to orchestrate this magical event. I had a tabbed binder full of magazine clippings (because it was the dark ages where Pinterest did not yet exist), and I would "accidentally" leave tabs open on my computer with engagement ring ideas, and even created a check-list of "must-have's" for our engagement:
1. I had to be wearing something cute.
2. David must be clean shaven (I actually like his beard now and have given up the fight against No Shave November.)
3. Good weather (as if that is something to be controlled, but frizzy hair is not cute for pictures).
4. "Secret" photographer capturing the moment.
While I was not so subtly dropping hints, David had already traveled down to my hometown to meet with my unsuspecting dad who thought he was being propositioned for a job in the family business, but instead was faced with the realization that he would soon have to give his little girl away. Armed with a job and proposal permission (talk about a two-for-one-deal), David took the computer-tabbed bait and started working on my dream ring.
Here's where a not-so-lovely fact about me comes in. I enjoy "stumbling upon things." David likes to call it snooping. (Ladies, please don't leave me hanging and pretend you don't do this, too.) While David was in class one day, he left me with his phone, and I happened to casually stumble upon a message from a jewelry designer, and there it was, my engagement ring! Cue immediate excitement … and shame.
Now I just had to figure out when this ring would be placed on my unsuspecting finger. Soon, thanks to my mom's not-so-subtle request to go dress shopping for something cute (engagement must-have number one), I knew the day had come. The final clue came when my sappy dad came upstairs to give me a goodbye hug, the kind of hug that was too tight and too long to be any normal hug, the kind of hug that oozed of someone trying their hardest to keep it together.
With a cute dress on, a clean-shaven boyfriend in arm, and a gorgeous evening on a boat ahead, the stage was set. When David knelt down on one knee to propose, like most people, I barely remembered what he said and could hear my heart in my head because it was all I ever hoped for finally coming true, but, ashamedly, I actually remember going through my checklist in my head: "cute dress—check; David's hairless, baby face—check; weather is good, hair is good enough—check; photographer … where's the photographer capturing this moment? Oh, there he is. Phew! Then finally, "Yes! I'll marry you!"
I know what you're thinking: my husband is a saint for dealing with me. I couldn't agree more. I find myself explaining things to him like I'm his mom, not his partner. I incessantly remind and make lists and am baffled when he has not read my mind. And yet, even when my requests are silly and outrageous, he's intentional and purposeful in fulfilling them, because he knows it makes me feel loved and appeases my neurosis. I feel pretty undeserving of my husband at times. And, I'm sure when my loving husband reaches the Pearly Gates, awaiting him will be a heavenly crown with a giant, gleaming jewel in it labeled: "For putting up with Carolyn."
Thank God Almighty we are not those goofy crazy kids anymore and have grown to know each other so fully. It's so amazing to be really known by David, to be able to ask him a question about myself and expect an honest answer. My "I woke up like this look" has slowly dwindled over the years, but, I am known. I went from having a crush on a guy who I was basically invisible to (so invisible he nearly ran me over on campus), to now being his wife (and I've since returned the favor by almost backing my car into him). We don't have the perfect love story, but I'm so grateful to look back and see how we were brought and grown together.
Read Part 2, here.
—
You'll also like Can You Have a Fairy Tale Love?, 7 Money Tips When You're Thinking Marriage, The Wedding Day: One Year Reflections, and Take It Easy—On Your Man
#gritandgracelife