Like many of you, when I started back to work, I was in search of conquering the ever popular phrase "work-life balance." I am an achiever, so I figured I could find it, define it, and then achieve it. I could juggle all the balls at once with none of them falling. However, over the years, God has brought me to a different place—a place of abandon. A place of realizing that there is really is no such thing as equally balancing both, and in this realization there is great freedom and rest.
"Balance" means:  a state of equilibrium; an equal distribution of weight
To us women, or wives, or moms, this often means that all the spheres of my life should measure up equally in order to achieve balance. So to me, this could mean that my home should be neat and organized, our family calendar and priorities measured and lined up, meal plans on point for the week, workouts spaced out accordingly, student lesson plans prepped and engaging. And, let's not forget that I should have some empty margin planned into my schedule for spontaneous time with my husband, kids, friends, or parents.
It's a lot to "balance" or "equally distribute,"  and over the years, I've learned with time and effort that it is impossible.
After eight years of trying to balance a teaching job, my marriage, parenting four kids, church, extended family, friendships, and housekeeping chores, I've come to learn that there is no such thing as balancing life. Rather, there are seasons for everything.
Usually during each season some balls stay in the air while others come crashing to the ground. I've learned that if my house is organized and meals are cooked, then usually I'm behind on my school work. Or if my lessons are all planned and I'm on top of my grading, then my bathrooms are filthy and the kids are making eggs for dinner. Truly not a week goes by where I juggle both well. Maybe a day, or maybe two, but then often something drops.
I am not trying to be fatalistic in my approach, but I do recognize my limits. I have come to see that balancing a professional life as well as a personal one calls for fluidity, flexibility, organization, and rest.
1. Fluidity
One of my weaknesses is that I tend to try to over-manage every area of my life and my kids' lives. Rather than let go of some things and let them figure it out for themselves, I try to take control, which only adds to my plate in unnecessary ways.
I'm learning to embrace the fluidity that four teenagers between 13- and 17-years-old bring. Their plans change constantly or aren't made until five minutes before they happen. They forget to make their lunch, they need a last minute ride somewhere, or they simply want someone to be present, hang out, and talk. Of course, all of this happens at the most inconvenient times. I have learned that I can't plan any of these things, so I have to allow and embrace the fluidity our life brings.
Balancing a professional life as well as a personal one calls for fluidity, flexibility, organization, and rest.
2. Flexibility
Embracing and allowing fluidity leads me to the necessity of being flexible. I have to be flexible with others when something happens outside of my plan. I also have to be flexible with myself when I don't reach the list of expectations I've set for myself in my head. As my favorite Pilates teacher, Robin Long, says, "Grace over guilt." I am trying to choose to live this way. While it's helpful to have a plan and list, it's important to give ourselves grace when it doesn't work out the way we thought it would. Maybe rather than balancing it all perfectly, God is trying to teach us to lean on Him more each day.
3. Organization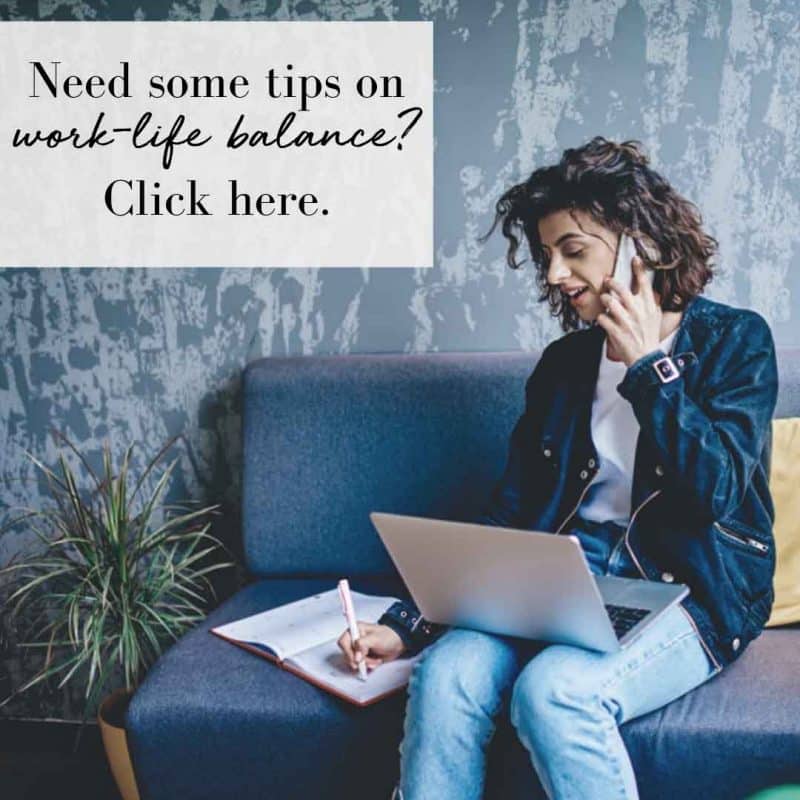 Of course it helps to be organized, but it's important to remember that other people's systems of organization may not work for you. Figuring out what is realistic for you and your family is the most important thing.
For me, I have a paper planner, and I love it. I use it for our personal calendar. We also have a family wall calendar hanging in our kitchen and it's color-coded with the kids' activities. I've learned to only update week to week because their schedules change so much. I also use my phone calendar. It connects my husband and me with games and special events.
Lastly, I have a school plan book for school commitments and lesson plans. So yes, I have four calendars. Sounds complicated, right? Exactly. This may not be a good idea for you, but it works for me. Do you!
I do my best to make a dinner menu for each week and grocery shop on the weekend, but it never fails that I end up going to the store one more time during the week.
Another organization tool for me is to make time to take inventory. My organization often flows out of my mental, physical, emotional, and spiritual health. If I can recognize my own needs in each of these areas and see which area might be trumping another, then I can commit some time to work on me.
For example, if I'm feeling emotionally scattered, I will plan time to sit and write down what I am feeling versus what I know to be true. Often, God uses this exercise to reset and refocus me, which leads to inner peace.
The way I may choose to organize and balance all that's on my plate comes from taking the time to stop and pay attention to what God is saying and where He is directing me that day. If one of my kids is celebrating or struggling, they get more of me that day than work does. If I'm overloaded at school and need to work more than usual, then work overshadows home. It's not a balance. It's a season. It's definitely uneven, and that's okay. That's good. That's right.
4. Rest.
I am horrible at resting. It is something I am intentionally trying to work on. I am my own worst enemy. I tend to fill every minute of my day to the brim to try and make the most of it. With time, I have learned that I will run myself into the ground if I keep doing this. God tells us and wants us to rest every week. He actually created the Sabbath day for us because He knows what we need, and He knows we need to stop.
He knows that we tend to overwork and over-schedule. He designed our bodies with a need to stop and rest. He wants us to physically, mentally, emotionally, and spiritually stop striving. He is so kind.
Jesus said, "Come to me all you who are weary and heavy laden, and I will give you rest. Take my yoke upon you and learn from me, for I am gentle and lowly in heart and you will find rest for your souls. For my yoke is easy, and my burden is light" (Matthew 11: 28-30). Jesus also says in Mark 2:27, "The Sabbath was made for man, not man for the Sabbath."
Our work will never end, it will always be there. There is always more we can do. But in the rest, we gain perspective. For me, it is harder to stop than it is to keep working. It's hard for me to do what Jesus says when He tells His disciples, "Therefore do not be anxious about tomorrow, for tomorrow will be anxious for itself. Sufficient for the day is its own trouble" (Matthew 6:34).
This is the second definition of "balance" that I referred to earlier: "mental steadiness or emotional stability. A habit of calm behavior or judgment." This type of balance results from spending time with God.
Our work will never end, it will always be there. There is always more we can do. But in the rest, we gain perspective.
So, work-life balance?
I have not arrived. I have not achieved it, and I don't think I ever will. But I feel free from thinking that I should, and I want the same for you. Who said we ever needed to "balance" anyway? Where does that come from?
I think it comes from our need to feel like we are doing everything the best we can. That desire is not wrong; in fact, it's noble. But in the midst of it, are we leaning on The One who gave us the work and the life? Or are we trying to accomplish it all on our own?  He is the only consistent part of the equation; every other circumstance changes. He is the beam that we can balance on. Our firm foundation. The one we can look to when a ball drops, and He is the only one there to catch it.
—
For more tips on living as a strong woman of grit and grace, start here:
How to Create More Balance in Your Life
Feeling Stressed Out? 5 Tips to Breathe Easy
Need to Stop Procrastinating? How to Eat Your Frog
Why You Should Just Have That Hard Conversation (And How to Do It)
Don't miss these popular articles:
14 Ways to Save Time and Money on Family Meal Planning
It Was an Undeniable Miracle I Will Never Forget
10 Classic Beauties Full of Grit, Grace and Inspiration
My Husband Fought for His Nation, but Lost a Battle at Home
#gritandgracelife
You'll love this podcast episode from This Grit and Grace Life: Why Strong Women Can (and Should) Rebuild Themselves with Molly Stillman – 125