Teachers,
Ever since Covid-19 began and we all had to learn how to effectively teach students in the midst of a pandemic, I feel a deeper camaraderie with teachers across the country and world. I feel like we have an automatic connection and understanding of one another just because of what we do every day.
I know that we have some things in common. We love kids. We are part of raising up the next generation. We want students to be seen. We want to help them find their God-given talents so that they can influence the world in powerful and beautiful ways. We don't do it for the spotlight, to make money, or to move up the ranks of a corporation—we do it because we love.
As a Fourth Grade Teacher, the Shooting in Texas Shook Me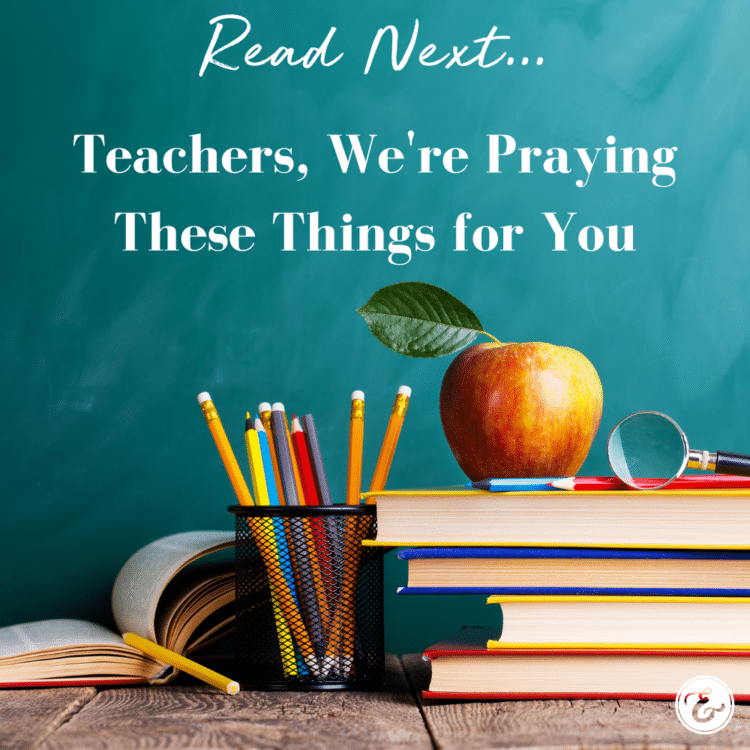 The tragic event that took place in Texas last week really shook me. I teach fourth grade. I have teaching partners whom I love dearly. I felt this tragedy in a different way than I have other ones because it's my life. It's what I do every day.
On Wednesday, the day after the shootings, I looked around my classroom as my fourth graders worked on their projects. I had music playing in the background, and many of them were quietly singing as they worked. My eyes welled up with tears at how much they have come to mean to me.
As a fellow teacher, I know how much you pour into the lives of your students. You know about their dentist appointments, their social struggles, and their academic achievements. You put Band-Aids on their skinned knees, you encourage them when they're lonely, you push them to be better, and you take on the heartaches of their families.
It is truly more than an 8-4 job. It's a ministry. It's a calling. And if it wasn't, I'm not sure I could carry it because it's a lot.
Teachers Give the Gift of Feeling Seen
On our last day of school, a group of six of us went out to lunch before our end-of-the-year meeting started. When it was time to pay, our waitress told us that somebody else had covered our bill. We were all delightfully surprised. "Who did this? Are they still here?" we asked.
Our waitress pointed to a family that was sitting a couple tables away from us. Their kids had gone to our school and knew that we were fourth grade teachers. With what had just happened in Texas, they wanted to bless us, and to show us that we were seen. This act of kindness made my day. It made me feel so loved, and it did make me feel seen.
And that's why I'm writing this letter today. The tragedy that happened last week reminded me that there are thousands of teachers across this country who do the same thing that I do every day. And as I listened to my students sing quietly and smile at each other this week, my heart broke for the two fourth grade teachers who lost their lives in the same room with those 19 precious students. They were their "kids." I know what they did every day. I see them.
I know that while the students won't physically be in our classrooms this summer, many of you will continue your work. Whether you read books, reorganize your teaching units, tutor students, or redecorate your classroom, you'll be doing something to begin preparing for the fall.
As you step into this summer and embrace a bit of a different routine and rhythm, I encourage you to remember and write down your "why." Why do you do what you do every day? Identifying our "why" will refuel and refresh our perspective.
Irma Garcia and Eva Mireles did not know that Tuesday, May 24, 2022 would be their last day teaching here on this earth, and we don't know when ours will be either. These women are now part of my "why." I won't forget who they are and what they did. I see them. I see you. We are teammates.
—
If recent events have made you doubt your faith, we encourage you to listen to this podcast episode: "Why, God?" Finding Hope when Faith Is Battered – 188