Many marriages around the world are groaning under quarantine stress.
We are collectively spending more time with our spouses than many of us have in a very long time (if ever before)—some in extremely tight quarters. Personal space has completely evaporated. Sex and intimacy look different. We're cooking several meals a day for the whole family, cleaning up more messes, balancing work with homeschooling, all the while trying to internally remind ourselves not to touch our faces—which just in itself requires a fair amount of mental energy.
Problems and issues that may have been tabled pre-lockdown are now blaring and have nowhere to hide. Tensions are heightened. Every little thing from reactions, moods, expectations, responses, and emotions are all magnified.
Some of us may wonder if our marriages are capable of surviving through this whole ordeal, and even if they do, are the next few weeks (or months) destined to be utterly miserable?
No matter what you may be navigating through in your marriage, remember this: marriage isn't easy even under the best of circumstances, so grace is perhaps one of the greatest gifts you can give yourself and your partner right now.
Here is a list of marriage articles and resources The Grit and Grace Project has curated to encourage and equip you during this precarious time.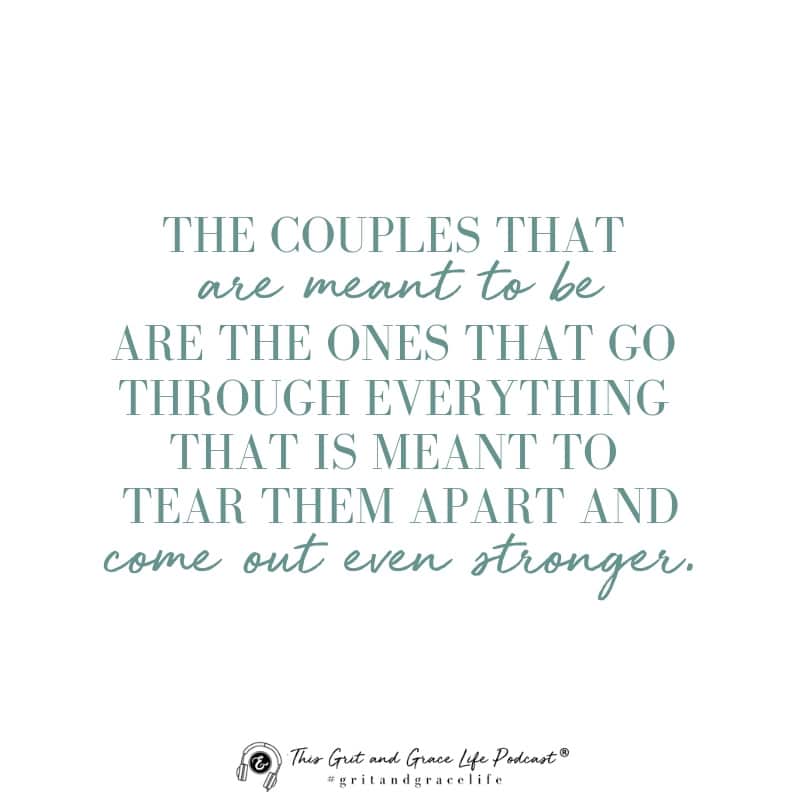 How to Strengthen Your Marriage:
5 Fresh Ways to Work on Your Marriage When He Isn't
6 Easy Ways to Spice Up Your Relationship Right Now
A Psychologist Explains How to Compromise and Why You Need to
10 Things I Learned in a Decade of Wifing
Marriage Advice That Will Change Things More Than You Think
You Didn't Marry a Grown Up Husband
Remarriage—5 Tips for How to Make it Work
The Warriors Wives Club: How to Fight for Your Marriage
This Is How to Balance Money and Marriage Like a Pro
Take It Easy—On Your Man
Marriage Issues Related to Parenting:
You, Your Man, and His Baby Mama All Need Grit and Grace
I Might Be a Good Mom, Can That Make Me Be a Bad Wife?
Things to Consider When You Want to Divorce with Kids
Personal Stories of Walking Through Infidelity:
How My Husband and I Survived My Affair
How Grit and Grace Are Carrying Me Through Infidelity
Q&As on Marriage From the Ask Dr. Zoe Column:
Ask Dr. Zoe – How Can I Break Gender Roles in My Relationship?
Ask Dr. Zoe – Dealing With a Disconnected Husband
Ask Dr. Zoe — Can You Get Past a Betrayal in Marriage
Ask Dr. Zoe — How Can We Restore the Trust in Our Relationship?
Ask Dr. Zoe – Is This an Unhappy Marriage or Mid-Life Crisis?
Ask Dr. Zoe – My Husband Is a Strict Stepfather
Ask Dr. Zoe – When I Don't Desire Sex
Ask Dr. Zoe – My Spouse Wants a Divorce, What Should I Do?
If you have a question for Dr. Zoe, submit it here (it's free and can be done anonymously!)
Podcast episodes on marriage from This Grit and Grace Life with Darlene Brock and Julie Graham:
Marriage Matters: Here's How to Invest in Yours – 062
Keep Your Love Alive: Avoid These Relationship Mistakes – 084
How to Embrace Love in Every Season With Debra Fileta – 123
Keep Your Love Alive: Avoid These Relationship Mistakes – 084

Outside Resources:
Affair Recovery Website
"Hope for the Battle Weary" by Lysa TerKeurst
"Seeing the Best in Him" by Chrystal Evans Hurst for Focus on the Family
Books:
The Seven Principles for Making Marriage Work: A Practical Guide from the Country's Foremost Relationship Expert
BIFF: Quick Responses to High-Conflict People, Their Personal Attacks, Hostile Email and Social Media Meltdowns
Fighting for Your Marriage: A Deluxe Revised Edition of the Classic Best-seller for Enhancing Marriage and Preventing Divorce
After the Affair: Healing the Pain and Rebuilding Trust When a Partner Has Been Unfaithful
The 5 Love Languages: The Secret to Love that Lasts
When Sinners Say "I Do": Discovering the Power of the Gospel for Marriage
Strengthening Your Marriage
The Meaning of Marriage: Facing the Complexities of Commitment with the Wisdom of God
Disclosure: This post contains affiliate links.
—
Don't miss these popular articles:
The Good Christian Girl Who Struggled With Porn
What to Do When He Didn't Propose (But Should Have)
TobyMac's Son's Cause of Death Reminds Us That Faith Doesn't Protect Us From Pain
How Breaking Up Made Me a Stronger Woman
The Refuge Coffee Co. Story: Hope and Help in a Cup
How Do I Know What Defines Me?
The Thief I Let In: a Day in the Life of a Working Mom
Married to the Badge: Not Your Typical Life
Her Passive-Aggression Will Make You Laugh, and Think
How to Find Strength in the Midst of Disappointment
#gritandgracelife
You'll enjoy this episode of our podcast This Grit and Grace Life: How to Handle Real-Life Struggles That Challenge Your Faith – 112