I always thought she would live with us, and I assumed it would involve much resistance. She'd said she never wanted to be a burden to any of her children. But my mother arrived with less dragging of heels than I'd imagined. She had blacked out and hit the floor of the drug store in the tiny town where she lived. The doctor couldn't seem to determine what was wrong. "Mom, come stay with us," I urged. "Just until they can figure out what's causing this."
She finally consented and my husband and I drove over the mountains to pick her up. Mom saw the cardiologist on a Tuesday before Christmas and was outfitted with a heart monitor. I received a call at work Friday morning. "Her heart is dropping beats. She needs a pacer. Can you check her in this afternoon?"
Standing at 5-feet tall, Mom weighed in at a whopping 87 pounds for surgery. A child's pacer was inserted, and she was back at our home on Christmas Eve.
She stayed four-and-a-half years.
Bringing My Mom Home
My mother had a knack for malapropisms, for using a sound-alike word in the wrong place. My favorite example happened after she decided to move in with us permanently. She stewed over whether to keep her house or sell it. "Do you think the neighbor boy is mowing the lawn? What should I do? How will I know if the lawn is being mowed?"
After a few days of this, my husband said to her with a twinkle in his eye, "I think you should burn your house down and collect the insurance money."
Mom looked at him horrified, thinking he was serious. "Why, I couldn't do that! I'd get thrown in jail for arsenic!" (Um, Mom … did you mean arson?)
My husband drew maps for her as she was learning her way around our mid-sized town. One evening, she moaned about trying to find one of the big box stores. "Sometimes when I go to Walmart, it's on one side of the street," she sighed. "And the next time, it's on the other side of the street." (Don't you hate it when they keep moving Walmart?!)
After the dinner dishes were done, we took walks in our woodsy neighborhood. She delighted in the wildlife scurrying out of our way—squirrels, quail, deer. "Why, I didn't know quail could climb trees!" she exclaimed one evening when we happened past an evergreen loaded with quail. (Um, Mom … pretty sure they flew there.)
Tuesday evening was our weekly Girls' Movie Night. Little Women, Sleepless in Seattle, and Roman Holiday were among her favorites. We watched them over and over with regular commentary from Mom. "He's not a nice man. I don't like him," she'd remark with a scowl. Or, smiling conspiratorially, she'd say, "I think she's going to fall in love with that guy. Just you watch!"
She was constantly misplacing her keys, her phone, her wallet. "This is the darndest house for losing things." (Oh, sure, Mom … blame it on the house.)
In time, we realized she shouldn't be driving any longer. But how does the adult child take a driver's license from his/her parent? In our case, it was done for us. Mom tripped over the curb on her way back to the house after checking the mail one day. She did a face plant on the sidewalk, and because she was on blood thinners, it caused a brain bleed. She survived emergency surgery but had to surrender her driver's license.
After a long rehabilitation, Mom was determined to get her license back. She took the DMV booklet with her wherever she went, reading it in the car and while waiting in medical offices. But it only served to frustrate her as she slipped further into forgetfulness and the inability to comprehend.
I arranged with my supervisor to work nine-hour days so I could be off at noon on Fridays to take her to lunch, on errands, and to medical appointments.
An Unexpected Personality Change
The onset of Alzheimer's changed my mother's personality. She became negative and distrustful. She was sure my husband and I were stealing her money. She complained to my brothers about how we were treating her.
We had given her both spare rooms in our 3-bedroom home—one for sleeping and one that we set up as a sitting room with TV, bookshelves, a small couch, and cozy furnishings. "This way," my husband explained, "if we have company and you get bored, you can go upstairs to your little living room after dinner." We found out later that she told my brothers we wanted her to go upstairs to her room whenever we had company.
This wasn't the woman who reared us kids with courage and imagination, who gave us a love for music and reading and told us we could be anything God wanted us to be.
More time passed and Mom couldn't be left alone. I came home from work one day to find the gas burner on high, the copper tea pot boiled dry, and the spout fallen off.
By this time, my husband had been diagnosed with late-stage cancer. I had no choice but to work because my job carried the medical insurance benefits. As my mother cascaded downward into this heart-breaking disease and couldn't be left alone, my brothers intervened and came up with an alternate plan that would allow them to help care for her and allow me to focus on caregiving for my husband. The intervention was timely.
Let God Be the Superhero
From my experience, the most challenging aspect of caring for an aging parent was dealing with the guilt. I was a good daughter, but there were times we neglected my mother because my husband and I were living with a time bomb set to go off at some unknown time—an incurable cancer. We wanted as much 'couple' time together … while there was still time. We established a standing Friday date night. And on Saturdays, we hiked in the nearby mountai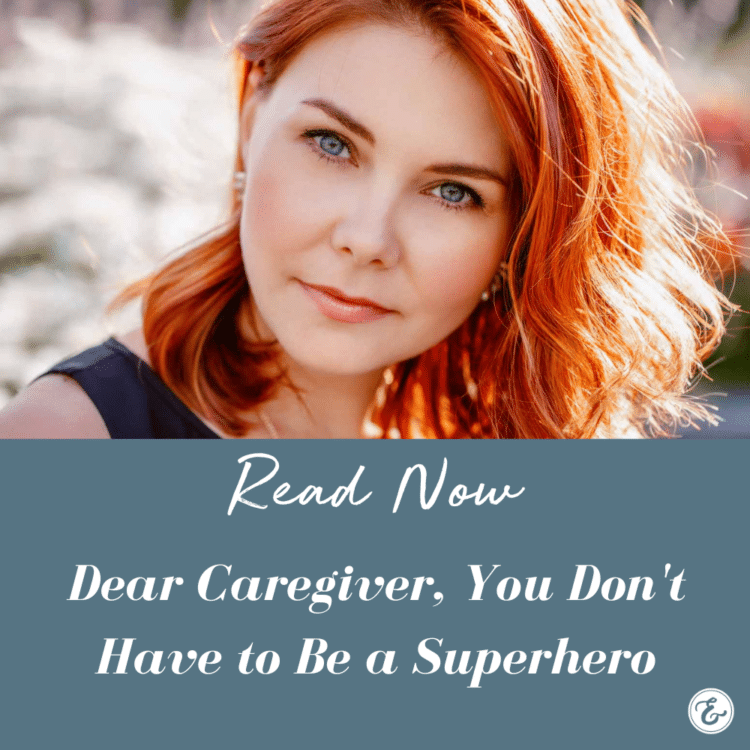 ns, knowing that physical activity enhanced quality of life while he still felt like getting out.
But oh, the guilt that accompanies the feeling of being neglectful and selfish, the remorse that comes from wishing I didn't have to do this while also dealing with a stressful job, tight finances, and wanting to be more present and available to my husband with cancer.
One day at church, a friend introduced us to his mother who was visiting from out of town. The conversation eventually shifted to her caring for her aging parent. I mentioned that I was doing the same but felt as if I was failing more than succeeding. This woman looked me directly in the eye and in a no-nonsense voice said, "You are a good daughter."
I can't tell you how timely and powerful those five simple words were for me.
Caring for Aging Parents with Grit and Grace
When the parent/child roles are reversed—whether the parent becomes a live-in resident or not—the adult child is taking on a high and holy task, which requires grit and grace. There can be a tendency to sling on our superhero capes. And maybe even our superhero tiaras and magic-powered boots.
But it would be beneficial to everyone if we take care of our own bodies, souls, and spirits, and if we accept the offers of assistance from people who care, which is a tough thing to do as hard-working, I-don't-want-to-bother-anyone, I-can-do-it-myself women.
Maybe we could let God be the superhero and by that, I mean the One who holds us as we hold our loved ones. The One who knows the number of hairs on our heads and freckles on our faces and dollars in our diminishing bank accounts. The One who has counted all our tears and heard every prayer we've ever whispered. The One who doesn't always answer our prayers as we want them answered but who always and only chooses for our highest good. Even when it doesn't seem that way. Always.
This piece is intended to be an encouragement to the weary who have become a mother to their parent(s). Take care of your body, soul, and spirit. Soak long in a bubble bath, sit on the front porch swing with a cup of steaming tea, accomplishing absolutely nothing. Draft gratitude lists in a lovely journal.
While you're on this sacred journey, look for the fun and the funny. And maybe you ought to take notes so you'll remember their funny idioms later!
As for the guilt: Don't listen to the lies you whisper to yourself. Know that you're not perfect, but you are a good daughter/ daughter-in-law even when you feel as if you're failing, even when you wish you didn't have to do this in this season.
Yes, my brothers' intervention was timely. But I would do those years of being a parent to my mother all over again. Only, I'd do them better.
If we were sitting face-to-face, and you shared the challenges of caring for an aging parent, I would nod my head and say, "I get it." And I would look you directly in the eye and in a firm voice, I would say, "But you are a good daughter."
—
Not sure what to do in the face of a major life change? The writer of this article shares what worked for her: Your World Just Turned Upside Down—What Now? with Marlys Johnson Lawry – 197