New beginnings are equally terrifying and exciting, for the same reason: they are unknown. A fresh start, regardless of the purpose, is still uncharted territory. We might have been thrown into it unexpectedly—say, with the loss of a loved one—or perhaps it's the product of careful sifting to restructure our lives into something more grandiose. What awaits us is unknown, but we have reason to look expectantly ahead. The Grit and Grace Life team share their favorite Bible verses on starting anew.
There Is Light at the End of Your Tunnel
Have you ever felt like you were lost in the wilderness? Like you were wandering around and around, maybe in circles, with no end in sight? Maybe it's a complicated health battle or a relationship struggle. Maybe it's not even that dramatic, but rather the daily grind of life's little and big stresses that have you feeling like nothing ever changes and there is no end in sight. It's hard to see the horizon when we're so far from shore and sometimes life feels like the deep end.
But just like the seasons, so does life. What seems endless will, in fact, end. And God is always working. Even when you feel like you are stuck knee-deep in the daily grind or one of life's great dramas, God is working and he's moving you forward. The Israelites wandered in the desert for 40 years. Joseph was in prison for 11 years. David ran from Saul for years too.
And still, God was working. Even when you can't see the break of dawn and the season of your life seems to be dragging on forever, God is doing a new thing. He promises it. Even the harshest winters turn to spring, and rainbows come after the storm. God is promising a new day. Every day.
"See, I am doing a new thing? Now it springs up, do you not feel it? I am making a way in the wilderness and streams in the wasteland." Isaiah 43:19
Meaghan Dawson — Contributing Writer
Read more from Meaghan here.

What Does Now Have to Do With What's Next?
Ahhh. I love the thought of something new! A new week, a new journal, a new pair of shoes, a new relationship… new anything! My personality is very vivacious and I love to live in the moment; I'm not great at dwelling on the past (this has both its perks and its pitfalls) and I often struggle to plan or dream for the future. I like today! And the good news is, I've learned from the Bible (and my life) that it's all we are promised. Today.
More importantly, we're promised plenty of fresh, sufficient grace for today, too! (2 Corinthians 9:8, Hebrews 4:16). With that in mind, I love to think about the new things I can choose to do, armed with grit, anchored in this grace… I don't have to be worried about what may or may not happen, if I'll achieve my goals or if I'll let God or others down… no. I can live my life to the fullest, chasing God and embracing the ones He's given me to love and be loved by, using my gifts to point to Him every. single. day. That's something to get excited about, right?
I always feel energized when I read this and I hope it inspires you too: Brothers and sisters, I do not consider myself yet to have taken hold of it. But one thing I do: Forgetting what is behind and straining toward what is ahead, I press on toward the goal to win the prize for which God has called me heavenward in Christ Jesus. Philippians 3:13-14

We've got this girls, we've got grit, grace, and God.
Julie Graham — Podcast Co-Host
Read more from Julie here.
Would You Like a Redo?
An older couple that I adore has this thing they do whenever one of them says or does something kind of dumb. Rather than getting all bent out of shape over the other person's offense, they simply ask, "Would you like a redo?" Man, how many times a day do I wish I could get a redo!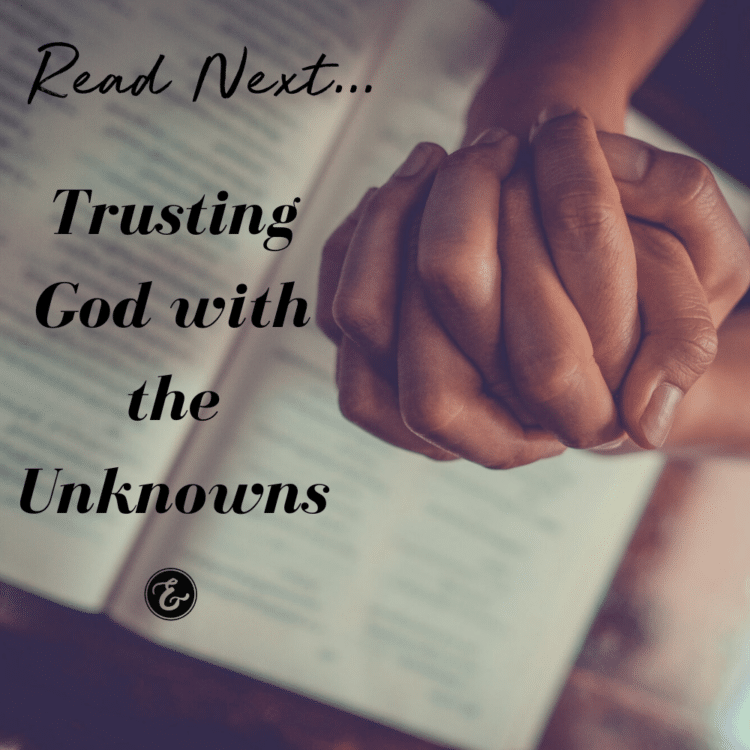 The good news is that God is all about them. Over and over and over again he allows and offers us redos. Yes, sometimes there are consequences we have to face for our poor decisions. Sometimes he simply says, "Go and sin no more" (John 8:1-11).
But never, ever does he say we've used up our last redo. Fresh starts, second chances (times 77), and new beginnings are kind of God's thing: it's called grace. And grace is a beautiful thing that brings hope to all circumstances.
The steadfast love of the LORD never ceases; his mercies never come to an end; they are new every morning; great is your faithfulness. Lamentations 3:22-23
Ashley Johnson — Managing Editor
Read more from Ashley here.
Something New Is in the Works
One of the first rap music videos I worked on was with DC Talk for a song entitled "NuThang". The music was catchy, their clothes very 90s, but even though today the video may not hold up, the truth will.As a young songwriter, TobyMac understood the reality of God's never-ending faithfulness to begin a new thing. "But, look down through the ages, and you will find God doesn't change, but He knows the time. From harp to piano, and song to rap Ya know, God's wit' us, so we can not lack. Ya know he's doin' it, God is doin' a nu thang."
At the time, God was doing a new thing through their music. A multi-racial group that included a rapper, two singers, dancers on stage with the rest of the instruments to support this musical genre was something fresh in the world of Christian music.
But what we came to realize is that the real new thing was taking place in our lives. When we understood our talents alone were lacking to complete the task at hand, God led the way, enabling us to begin again. When we recognized we were inadequate as we rode this wave of success, we understood God was not.
Each day facing new challenges, there were times we received accolades. Other times resistance, or even condemnation, that what we were doing had no place in the family of faith. But, God was faithful, supporting us when challenged, challenging us when we believed the accomplishments were our own. It was true then, and it is true today.
No matter what your life circumstances are, God is creating something special, unique, and entirely new. Fulfilling his purpose, if we seek and rely upon him. "Forget the former things; do not dwell on the past. See, I am doing a new thing! Now it springs up; do you not perceive it? I am making a way in the wilderness and streams in the wasteland." Isaiah 43:18-19 NIV
Darlene Brock — Co-founder and President
Read more from Darlene here.
Embrace the Change You Want to Make
We see it on the first day of January, every year. Social media becomes flooded with posts about the countless opportunities that await and the chance to create a year that's unforgettable. For some, it's more simple: "I'm kicking this habit tomorrow."
New beginnings are a chance for us to carve out a part of our life that we're not so proud of. It's an opportunity to rebuild our behavior or our environment into a place where our past decisions and experiences are no longer able to haunt us. We can refine the person we want to be.
The beauty of starting over is that we don't have to wait. Nobody is standing in front of us pointing sternly at a calendar date that seems eons away. We don't need permission to make a change. If we want to alter the course of our life for the better in the next two minutes, we are free to do so.
But we don't need to fear the outcome of a life change, because our stronghold is God. He is the one constant variable that never changes. The way he loved you before is the way he will love you now. When our new chapter seems daunting, God is only one prayer away.
And if our new beginning is a desire to see a change in ourselves, God gives us the strength to follow through whatever steps are necessary to achieve it. He creates in us a spirit of hope that refuses to see defeat. "…anyone who belongs to Christ has become a new person. The old life is gone; a new life has begun!" 2 Corinthians 5:17
Tess Lopez — Content and Marketing Manager
Read more from Tess here.
New Mercies, Rest and Adventures
I'll be the first to admit that I'm not the best at "new" in life. New is typically accompanied by change. And change is typically accompanied by challenge. To be honest, we're not speaking my love language here.
But new also means a fresh start, and that I do like. A chance to change your life for the better. A fresh cleansing breath after a bad moment, and the promise of a clean slate for tomorrow.
New doesn't have to be a grand, life-changing gesture. New can mean making a conscious decision to change one small thing, and knowing it'll have a ripple effect reaching those around you. New can mean a re-do. New can mean fresh mercies. New can mean an adventure for tomorrow, and rest for today.
Best of all, new isn't scary when we remember God already knows our "new." (And in the greatest way possible, He isn't new.) With that point of view, I'm thankful for all the new, and the unending opportunities to choose new, because they've gotten me to where I am today.
So, if you're like me, and the idea of a whole lot of "new" doesn't necessarily excite you, take heart in the one who has already directed your new.
"The Lord himself goes before you and will be with you; He will never leave you nor forsake you. Do not be afraid; do not be discouraged." Deuteronomy 31:8
Bethany Gilliland — Contributor
Read more from Bethany here.
Here are some more verses on starting over:
You were taught, with regard to your former way of life, to put off your old self, which is being corrupted by its deceitful desires;
to be made new in the attitude of your minds;
and to put on the new self, created to be like God in true righteousness and holiness. (
Ephesians 4:22-24)
God saw all that he had made, and it was very good. (
Genesis 1:31a)
A new command I give you: Love one another. As I have loved you, so you must love one another. By this everyone will know that you are my disciples, if you love one another. (John 13:34-35)
I will give them an undivided heart and put a new spirit in them; I will remove from them their heart of stone and give them a heart of flesh. (Ezekiel 11:19)
And now, dear lady, I am not writing you a new command but one we have had from the beginning. I ask that we love one another. And this is love: that we walk in obedience to his commands. As you have heard from the beginning, his command is that you walk in love. (2 John 1:5-6)
He who was seated on the throne said, "I am making everything new!" Then he said, "Write this down, for these words are trustworthy and true. (Revelation 21:5)
And after you have suffered a little while, the God of all grace, who has called you to his eternal glory in Christ, will himself restore, confirm, strengthen, and establish you. (1 Peter 5:10)
But those who hope in the LORD will renew their strength. They will soar on wings like eagles; they will run and not grow weary, they will walk and not be faint. (Isaiah 40:31)
For I know the plans I have for you," declares the LORD, "plans to prosper you and not to harm you, plans to give you hope and a future. (Jeremiah 29:11)
Because of the LORD's great love we are not consumed, for his compassions never fail. They are new every morning; great is your faithfulness. I say to myself, "The LORD is my portion; therefore I will wait for him." (Lamentations 3:22-24)
—
You'll love this podcast episode from This Grit and Grace Life: New Year, Strong You! How to Reflect on Your Year in a Helpful Way – 114