(Listen to the audio version of this article here.)
"I am not a perfect mom." I have this thought—well, much harsher versions of it—more often than I'd like to admit.
I lost my patience and yelled. I made PB&J for lunch and frozen chicken nuggets for dinner because I cannot seem to meal plan. I was on my phone too much. My house is a mess (better not post any pictures from today—yikes). I tried a "super easy" kids' activity I found on Instagram that ended in my toddler eating the glue stick and coloring on the wall.
I felt stressed out rather than present during our entire trip to the park because the kids were running in opposite directions, and all these warnings on social media tell me I have to watch them like a hawk.
Being a mom is a lot harder than I thought it was going to be.
"Is it harder for me than other moms? Do I just have a lower capacity than others?" I wonder.
Sometimes I feel like I'm a failure at the very thing I dreamed of being my whole life. That's hard.
My "Bad Mom" Moment
I had one of those days recently. It started when I was dropping my kids off with my mom in the morning so I could get a much-needed break. My son didn't want to participate in the outing my mom had planned for the day, and I tried every which way to talk him through it. I listened and acknowledged his objections. I validated his feelings. I gave him time to calm down. I encouraged him to see the positives…it didn't work.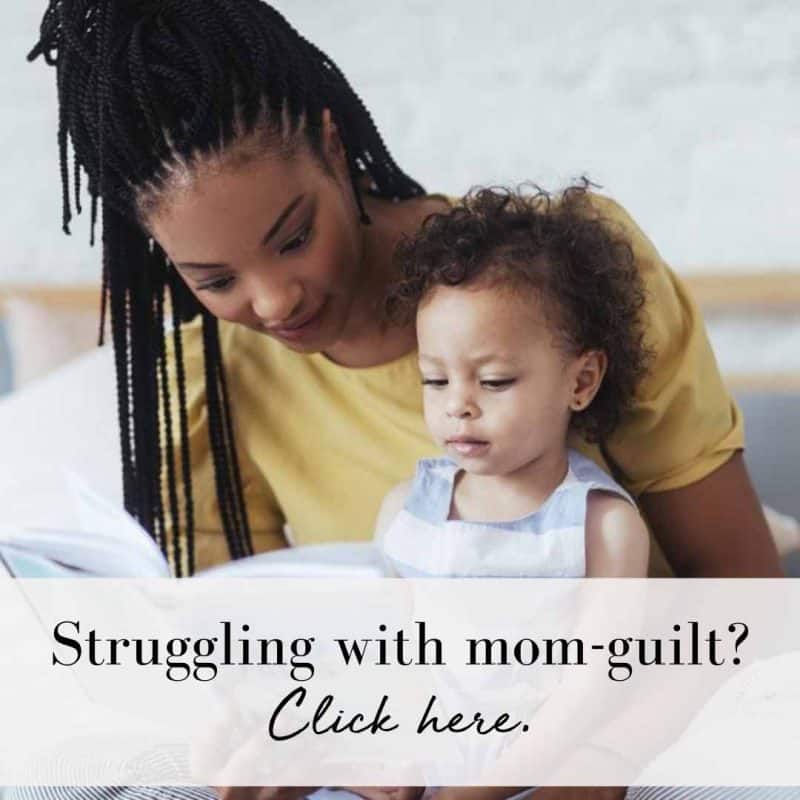 I got frustrated and ended up telling him he just needed to do it because I said so. He complied but was clearly dejected, and I walked away feeling equally downtrodden.
So, I drove off to "enjoy my me-time" but really just felt a heaviness in my heart.
As mom guilt pressed down on my chest, I instinctively wanted to reach out to my best friend or husband and ask, "Did I handle it ok? What would you have done?"
What was really happening was that I felt sick with self-doubt and was dying for affirmation. I just wanted someone to say, "You're a good mom."
Then, a gentle, inner nudging reminded me that this was one of those moments when I just needed to pray. To ask God for advice, insight, and guidance before running to anyone else. To go to him for the affirmation I was longing for because I know in my heart of hearts that my Father wants to affirm me as His child, even when I fail as a mom.
So, I started praying…
My "Bad Mom" Prayer
"God, I'm sorry if I missed the mark on that one. Did I? I really was trying. Can you see that I was? Will you help me learn how to do it all better? Help me grow and gather more skills as a parent to navigate motherhood in a way that benefits my kids and pleases You. Bless my kids' day and clean up my messes, today and throughout their lives."
I just needed to pray. To ask God for advice, insight, and guidance before running to anyone else.
I turned on the song "The Blessing" by Kari Jobe and just listened, cried, and prayed it over my children. I prayed that the Lord would bless them, keep them, turn his face toward them, give them peace, and that His presence would go before them and behind them and before me and behind me in their lives, and that he would put His Spirit within their hearts.
That is my greatest hope as a mother.
Not that they would obey me the first time every time. Not that they would be grateful in all circumstances. Not that they would be perfect kids. But that they would recognize the fact that they are not perfect, and trust in Jesus who was perfect on our behalf.
Prayers For My Children
I came home and searched the Bible for prayers and blessings over God's people, and I began praying them over my children. Because sometimes I don't know what I'm supposed to do. I don't know what I'm supposed to say. I don't even know what I'm supposed to pray. Because I am neither a perfect mom nor a perfect Christian.
But God always knows the best thing to do, always has the right words to say, and even gives me his own prayers to pray, and he's written it all out for me in his perfect book.
And so, I sat there with my Bible and I read. I prayed. I cried. I felt Jesus wash me with his words and take the weight of #momguilt off my chest.
Yes, sometimes I will fail as a mom, and sometimes I will succeed. But here is what I learned: Failing along the way is inevitable, but God's words are higher than mine. His ways are better than mine. His plans will always outbest mine.
And if my failures lead to his Word spoken over my children's lives, then I can trust my shortcomings will only serve his good purposes.
So, if you're feeling weighed down by mom guilt today too, then I want you to know I'm praying for you and your children right now also. I'm praying that God's grace would be magnified in it all, and you would see His face turn toward you and that he would give you peace.
If you want to pray some of the prayers and blessings from Scripture over your own child, I've included the ones I used below:
I pray that the Lord would be gracious to you and put His name upon you:
The LORD spoke to Moses, saying, "Speak to Aaron and his sons, saying, Thus you shall bless the people of Israel: you shall say to them,
The LORD bless you and keep you;
The LORD make his face to shine upon you and be gracious to you;
The LORD lift up his countenance upon you and give you peace.
So shall they put my name upon the people of Israel, and I will bless them."
Numbers 6:22-27
I pray that the Lord would write your names upon His palms and set you ever before His eyes:
"Can a woman forget her nursing child, that she would have no compassion on the son of her womb?
Even these may forget, yet I will not forget you.
Behold, I have engraved you on the palms of my hands; your walls are continually before me."
Isaiah 49:15-16
I pray that the Lord God would seek you out:
For thus says the Lord God: Behold, I, I myself will search for my sheep and will seek them out. As a shepherd seeks out his flock when he is among his sheep that have been scattered, so I will seek out my sheep, and I will rescue them from all the places where they have been scattered on a day of clouds and thick darkness.
Ezekiel 34:11-12
If my failures lead to His Word spoken over my children's lives, then I can trust my shortcomings will only serve His good purposes.
I pray that God would give you a new heart and put His Spirit within you:
And I will give you a new heart, and a new spirit I will put within you. And I will remove the heart of stone from your flesh and give you a heart of flesh.
And I will put my Spirit within you, and cause you to walk in my statutes and be careful to obey my rules. You shall dwell in the land that I gave to your fathers and you shall be my people, and I will be your God.
Ezekiel 36:25-28
I pray that you would see how the Lord has gone before you and behind you and praise Him for it:
You hem me in, behind and before, and lay your hand upon me. Such knowledge is too wonderful for me; it is high; I cannot attain it.
Psalm 139:5-6 
I pray that you would know and be strengthened by the love of Christ, that you would be filled with the fullness of God, and see Him do immeasurably more in and through your life than you could ever ask for or imagine:
For this reason I bow my knees before the Father, from whom every family in heaven and on earth is named, that according to the riches of his glory he may grant you to be strengthened with power through his Spirit in your inner being, so that Christ may dwell in your hearts through faith—that you being rooted and grounded in love, may have strength to comprehend with all the saints what is the breadth and length and height and depth, and to know the love of Christ that surpasses knowledge, that you may be filled with all the fullness of God.
Now to him who is able to do far more abundantly than all that we ask or think, according to the power at work within us, to him be glory in the church and in Christ Jesus throughout all generations, forever and ever. Amen.
Ephesians 3:14-21
—
Riding the mama struggle bus? Let it go & watch this video…
Need some more encouragement in motherhood? Give a listen to this podcast episode of This Grit and Grace Life- You Are "Mom Enough": How to Stop Feeling Like a Failure – 017