In the midst of life's circumstances and the chaos that is our kids, spouse, job, bills, and home, it seems we are never quite at rest. Many people find peace to be a highly-esteemed, yet nearly unattainable, ideal. But we ladies at Grit and Grace Life believe otherwise: that God is able to meet us in the middle of our hectic lives and grant us peace in the way that only He can.
Here, the team shares Bible verses that remind them that peace is never truly far out of reach.
Peace in Troubled Times
It seems more than ever that peace is an elusive feeling. Fears arise driven by news reports every day. But what often leads our fearful hearts are the uncertainties that plague our daily lives—finances, health, jobs, relationships, children.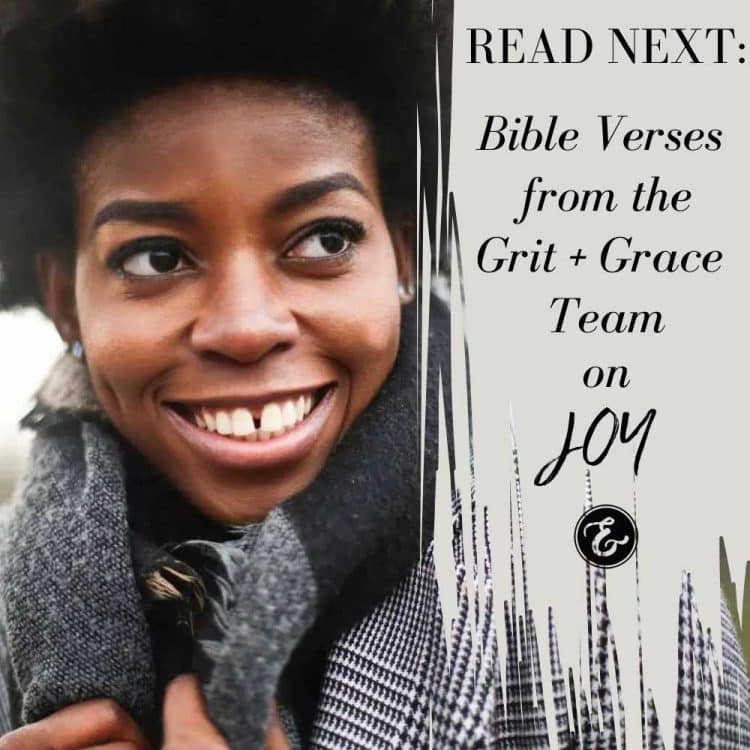 So we pray, we plead, we take our worries to God, at times we all feel prayers were inadequate. As I look to him for answers, I remember this: it is not my prayers alone that will bring peace in my life. It is his prayers for me. Hebrews 7:25 says, "He is able, once and forever, to save those who come to God through him. He lives forever to intercede with God on their behalf" (NLT). "It is Christ who died, and furthermore is also risen, who is even at the right hand of God, who also makes intercession for us" (Romans 8:34, NKJV).
Then I sing this old hymn that has brought peace to my heart so often: "Turn your eyes upon Jesus. Look full in His wonderful face. And the things of earth will grow strangely dim. In the light of His glory and grace." As my eyes turn heavenward, it is Jesus praying for me, I see. I'm not alone; he prays for you. He lives forever to intercede on our behalf. It is in that we can find peace.
Darlene Brock–Co-founder and President 
Read more from Darlene here.
Peace in Painful Times
Peace is not the absence of pain or conflict or chaos. It's not spa days or cozy snowed-in days or Fri-yays. It's the presence of supernatural strength in the midst of your life's greatest defeat. It's having a sound mind while standing in the eye of a harrowing calamity. It's falling into a deep sleep while lying in the belly of a ship that's leaping and sinking because of a great storm. It's a calm, quiet confidence when all visible evidence is damning. No, peace is not the absence of anything but the presence of something. Rather, it is the very presence of God in the heart of his child.
"And I will ask the Father, and he will give you another advocate to help you and be with you forever—the Spirit of truth. The world cannot accept him, because it neither sees him nor knows him. But you know him, for he lives with you and will be in you. I will not leave you as orphans; I will come to you" (John 14:16-18).
This verse saved my life. In my most excruciating pain, I decided to open up a Bible, and this is what I read. It didn't change my circumstances, my diagnosis, or give me answers about the future. But it did give me what I needed: God's presence. He made a promise to me that day, to never leave me or forsake me, to advocate for me and to help me, and to dwell with me and to be with me forever. I met Jesus that day, and he gave me peace. It was all I really needed.
Ashley Johnson–Managing Editor 
Read more from Ashley here.
Peace in Uncertain Times
I can't think about peace without also thinking of faith. Faith is trusting in someone or something outside of yourself. It implies that you understand your own lack of control over your life (or anyone else's!). What brings me the most peace is my faith—my faith in a good, big, loving God who does as he pleases and knows all of my needs, desires and already has the days of my life planned out. Psalm 139:16 says, "You saw me before I was born. Every day of my life was recorded in your book. Every moment was laid out before a single day had passed."
Because I believe this to be true, I can have peace because God is always at work. Of course I will experience, fear, anxiety, and worry, but when those things begin to creep in, I must remind myself that God has not changed, and cannot change (Malachi 3:6). Dr. Zoe reminds us often how our negative self-talk is so damaging, and the opposite is also true—speaking truth to yourself is life-giving!
When I am lacking peace in a circumstance, or facing a decision and feeling uncertain, I can ask God for peace. He loves to hear our prayers and because peace is also a fruit of the Spirit we can trust that he promises to give it.
I also grow in peacefulness when I spend regular time in the Word, because the more I know God, the more I trust him. Isaiah 26:3 says, "You will keep in perfect peace those whose minds are steadfast, because they trust in you."
If you do not feel at peace, I encourage you to pray, read, and trust that God sees you and even says that he himself is peace (2 Thessalonians 3:16: "Now may the Lord of peace himself give you peace at all times and in every way. The Lord be with all of you.") And in the greatest act of pursuing peace with and for us, he sent his Son Jesus to be our peace!
"For to us a child is born, to us a son is given, and the government will be on his shoulders. And he will be called Wonderful Counselor, Mighty God, Everlasting Father, Prince of Peace" (Isaiah 9:6).
I pray that today you seek his peace, because he promises to give it.
Julie Bender–Co-Host of This Grit and Grace Life podcast
Read more from Julie here.
Peace in His Control
When I think of the word peace and what it's come to mean in my life, I always fall back on the knowledge that God is still there. He is still in control. Even when I'm tumbling in the currents of "There's not enough time" and "How can I afford this?" and "What's going on in the world?", I remember that he's only a prayer away. He's always waiting, ready to offer comfort and strength.
Immersing myself in the Word helps—reading his promises, reaffirming his truths and knowing that he cares about me (all of us!) too much to let me stumble. One verse I love in particular is this: "The faithful love of the Lord never ends! His mercies never cease. Great is his faithfulness; his mercies begin afresh each morning" (Lamentations 3:22-23). This verse reiterates his promised love, but it also generously reminds us that he will never turn away from us in times of trouble.
Tess Lopez–Content and Marketing Manager
Read more from Tess here.
Peace in His Love
When I think of the peace God has to offer, my mind immediately jumps to the old hymn, "It Is Well With My Soul." I mean, that's what peace is, right? Whatever the circumstances may be, I have peace that surpasses understanding and can rest in the Lord knowing that what he has ordained is good, and thus, well with my soul. Though I know at times this is a lot easier said than done (or felt).
Friends, I'll be honest: I've never faced some of the incredibly challenging circumstances that I've seen many strong women in my life endure. While I haven't personally been the one begging God for peace in those moments, I've learned a lot from the ladies who have.
We may not feel like God's promises are ringing true in the moment. We may not feel like He is always with us. We may not feel an overwhelming sense of peace when facing giants. But God. They are, He is, and we can. To me, peace isn't something unattainable or lofty. It's simply finding complete rest in His promises.
My favorite verses that speak to this are Psalms 46:1-3, "God is our refuge and strength, an ever-present help in trouble. Therefore, we will not fear, though the earth give way and the mountains fall into the heart of the sea, though its waters roar and foam and the mountains quake with their surging."
"When peace, like a river, attendeth my way, When sorrows like sea billows roll; Whatever my lot, Thou has taught me to say, It is well, it is well, with my soul."
Bethany Gilliland–Social Media Manager 
Read more from Bethany here.
Peace in Stressful Times
Whenever I am feeling off-kilter and in need of some peace in my life, I turn right to Psalms. Something about the poetry of the verses and the depth of the words speaks right to my soul. But there is nothing, no other verse that can calm me down as if I am in the very presence of God than Psalm 42:7, "Deep calls to deep in the roar of your waterfalls all your waves and breakers have swept over me."
I can guess that my love for this verse is the sheer poetry of the wording. It reads just like the ocean, which always brings me peace. But more than that, the imagery of God's waves and breakers, which are majestic and powerful, sweeping over me in my time of anxiety or fear brings me deep peace. The same God who owns the waterfalls and commands the seas also has me in his hand. This brings instant peace. I imagine myself being swept over by God's love and I feel a peace that surpasses all understanding wash over me.
Meaghan Dawson–Contributing Writer
Read more from Meaghan here.
Here are some more verses to bring peace:
Let the peace of Christ rule in your hearts, since as members of one body you were called to peace. And be thankful. (Colossians 3:15)
And the peace of God, which transcends all understanding, will guard your hearts and your minds in Christ Jesus. (Philippians 4:7)
Do not repay anyone evil for evil. Be careful to do what is right in the eyes of everyone. If it is possible, as far as it depends on you, live at peace with everyone. (Romans 12:17-18)
Great peace have those who love your law, and nothing can make them stumble. (Psalm 119:165)
Come to me, all you who are weary and burdened, and I will give you rest. Take my yoke upon you and learn from me, for I am gentle and humble in heart, and you will find rest for your souls. For my yoke is easy and my burden is light. (Matthew 11:28-30)
I have told you these things, so that in me you may have peace. In this world you will have trouble. But take heart! I have overcome the world. (John 16:33)
Peace I leave with you; my peace I give you. I do not give to you as the world gives. Do not let your hearts be troubled and do not be afraid. (John 14:27)
For God is not a God of disorder but of peace—as in all the congregations of the Lord's people. (1 Corinthians 14:33)
May the God of hope fill you with all joy and peace as you trust in him, so that you may overflow with hope by the power of the Holy Spirit. (Romans 15:13)
Do not be anxious about anything, but in every situation, by prayer and petition, with thanksgiving, present your requests to God. 7 And the peace of God, which transcends all understanding, will guard your hearts and your minds in Christ Jesus. (Philippians 4:6-7)
—
Want to be a strong woman of faith? You'll love this podcast episode: Are You a Strong Woman of Grit and Grace? – 072