Hardly anything is impossible. Take it from Mignon François—a speaker, entrepreneur and owner of The Cupcake Collection, a specialty cupcake business that ships nationwide—who, only a few years ago, found herself with only $5 in hand to feed her family as a single mom.
On this episode of This Grit and Grace Life, Darlene Brock and Julie Bender chat with Mignon on how to get to where you want to be in life, and the ability to be resourceful even when it seems all the odds are against you. Mignon shares her unexpected journey from living paycheck to paycheck to investing seed money that would eventually turn into a bakery empire. But her story didn't come without its share of challenges: While this was all happening, Mignon went through a divorce, her car was repossessed, and her house was up for foreclosure.
She believes the heartache and her hard work ultimately led her to where she currently is, and she hopes other women in a season of doubt and struggle will take her message to heart. Tune in for her advice on striving through hardship, why your past might actually serve you, and why you should write a mission statement for your future self.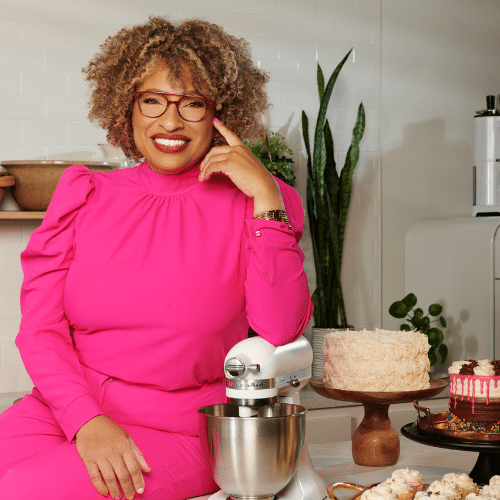 Mignon François is a speaker, entrepreneur, and community leader who has inspired thousands through her "Follow Your Spirit" approach. After years of drowning in debt and brokenness, Mignon founded The Cupcake Collection in 2008, on the last $5 she had to feed her family and turned it into a legacy with over five million cupcakes sold.
Her grassroots story of success has garnered national attention from TODAY with Hoda and Jenna, Southern Living, Entrepreneur and Business Insider, just to name a few. In addition, her business savvy has earned her numerous titles and awards, including Woman of Legend and Merit, Entrepreneur of the Year, Women's Empowerment Innovator, NAACP Powershift Entrepreneur, and Black Enterprise magazine's Family Business of the Year.
Today Mignon is committed to teaching anyone who will listen about what they can do if only they believe.
2023 forges a new path for Mignon's career as she adds author to her resume. In her memoir, Made from Scratch: Finding Success Without a Recipe, Mignon shares her story of finding success with no presets in place, mapping a journey that led to the joy that has become synonymous with Mignon François.
Quote of the episode:
"Every single thing that you've ever had to do is taking you from where you are to where you want to be." —Mignon François
Resources
Mentions:
—Buy Mignon's new book: Made From Scratch: Finding Success Without a Recipe
Related Content:
—"6 Steps to Be Prepared for a Potential Recession"
Follow Us on Social Media!