It was a Friday afternoon, long after the rest of the staff had left. The celebration was over and the building was still and quiet. 
I walked to my office and leaned against the doorway, cardboard box in hand. I thought about the years spent within these four walls, the conversations, the accomplishments, and the many challenges. A career ended far too soon. 
I spent the next few minutes packing years' worth of memories into the box, glanced fondly out the window, walked out the office, down the hallway, and out the building—the front door closing behind me.
I can vividly remember the feeling of cold air hitting my face as I stepped off the sidewalk. It was November, a fitting month to end a chapter in my life. 
Who Am I Outside of My Career?
As I walked to my car, a feeling of confusion overwhelmed me—I was leaving a job I was not quite ready to let go. 
You have to understand—I have worked since I was 17, building a resume that gave personal satisfaction and a life of experiences that provided a sense of identity. 43 years later, I faced a company restructure that eliminated my position, forcing me to start looking at the world differently. 
I sat motionless in the driver's seat of the car, my box tucked neatly in the back seat. Images flashed through my mind—first promotion, the faces of the people I hired and the last person I let go, an image of a new building from concept drawing, to pouring the foundation, and then to occupancy. All pictures that made up my professional career.
And as I pulled out of the parking lot and onto the street, the reflection of the office building faded. A fitting reminder of just how fast life changes, a blink, and the familiar is gone.
Now in my 60s, I was confronted with a different reality. I was going to have to make a decision: retire or launch a new direction for my career. To be honest, the years of work had started to erode my drive to travel, conquer the next challenge, or train one more group of not-so-interested recruits. I used to get a rush from the pressure and demands but now it was feeling a little too much.
When Your Work Does Not Satisfy
Over the next year, I consulted for a small firm. Helping them transition in size and structure. Then a part-time position opened at a local non-profit. 
The role allowed me to serve the most vulnerable in our community. A place where heart and skill could meld. But I soon learned that although these positions occupied my time, my soul was left hungry. I was doing good work—needed work—but the tasks did not satisfy. There remained a tugging, a nudging to be someone different, to do something different, something that would stretch me beyond the safety of the familiar.  
Don't get me wrong, the familiar had served me well, allowing me to climb corporate ladders and fill positions I never felt completely confident occupying. But the coziness of the well-known no longer fit. I could no longer slip my arms into my favorite role; I had outgrown my life. 
Closed Doors Become Our Defining Moments
Throughout the years, I faced defining moments. Closed doors that forced me to rethink life as usual. Infertility, a failed first marriage, career starts, stops, and restarts, and the death of cherished ones. These events woke me from my unconscious slumber, forcing me to think. 
I had a choice to either view these times as devastating inconveniences, and unfair twists of fate, or escalate them to a place of priority. They are the times that allowed me to prioritize what brings real meaning.
For me, it was time to retire. Leaving behind all that had defined me, all that chased me to perform. 
My new metric was no longer climbing the corporate ladder—it was making a difference in the world, one life at a time, one small act of service at a time. And along the journey, I found new gifts, refocused the lessons of my past, and identified the passion beneath my heart's emotion. 
Now I Do What I Love Every Day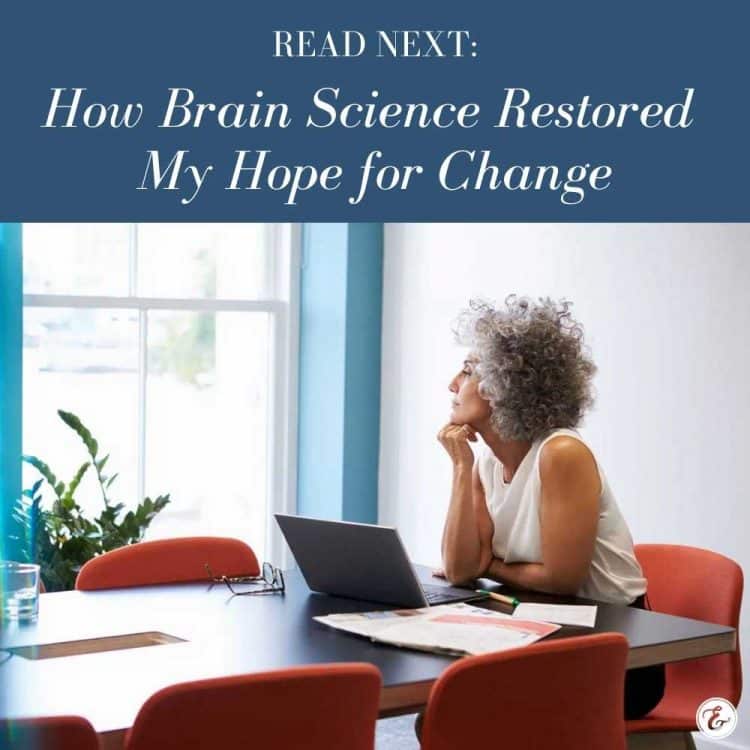 Now my days are filled with the small things that bring me the most joy. 
Things like baking blueberry scones on cold mornings. The aroma drifts through each room of the house. My old life provided no room for early morning baking. No room for watching my husband's eyes when he comes to the kitchen and finds his favorite breakfast treat sitting on a plate accompanied by a warm cup of chai tea. 
Now happiness is found in planning, planting, and tending to a garden. Four raised beds filled with a selection of vegetables and herbs, the bounty shared with friends and neighbors. And those early morning walks along the river, surrounded by God's creation, admiring His handiwork. All the little things that fill me as joyfulness overflows.
Now I Have Time to Care for Others
And then there are the acts of service. Those opportunities where skill, experiences, and passion combine to bring real satisfaction. Hours spent in front of a computer, writing words to encourage and inspire women through their darkest journeys. Time on a phone, in person, or over a cup of tea mentoring and coaching the next generation. Bringing women together to learn about the source of true purpose, real value, or supporting neighbors, friends, and strangers. All tasks that previously would have been pushed aside because of a schedule that could not accommodate one more entry.
It is amazing what happens to a life when we get out of our way and take a minute to breathe. Some of our loftiest dreams are realized—a 16-hour road trip with a girlfriend, sharing intimate hopes and deepest fears. Sewing masks to ward off a pandemic, taking time to improve my knitting skills, and learning to play the guitar. 
However, I think one of the sweetest outcomes of my slowing down is what it has done for my marriage. My husband and I have been married for 40 years. But, it was not until I retired that I recognized how much I love this man. We are closer today than in the previous 39 years and for the first time I understand his motivations, I have experienced his heart in new ways. 
Are You Self-Imposing Unnecessary Stress in Your Life?
Busy schedules, self-imposed priorities, and a lack of balance overshadow the potential to find real purpose. And it isn't until a few doors close, a few God-ordained detours, that we recognize life is so much more. 
Every closed door leads to something new, something different, a new opportunity to grow, learn, and change. Each closure can lead to transformation, a deepening faith, and a profound realization that we are not in control.
Life today is filled with a sweetness that I can't explain. It has space for all I hold dear and there is a confidence that even as my life continues to shift with the experiences of the future, the best years are yet to be recognized, yet to be experienced. 
—
There's still hope to be found, even when life doesn't turn out the way you expected. Listen to Baylor Wilson's story for encouragement: Ready to Overcome Disappointment? Here's How with Baylor Wilson – 176