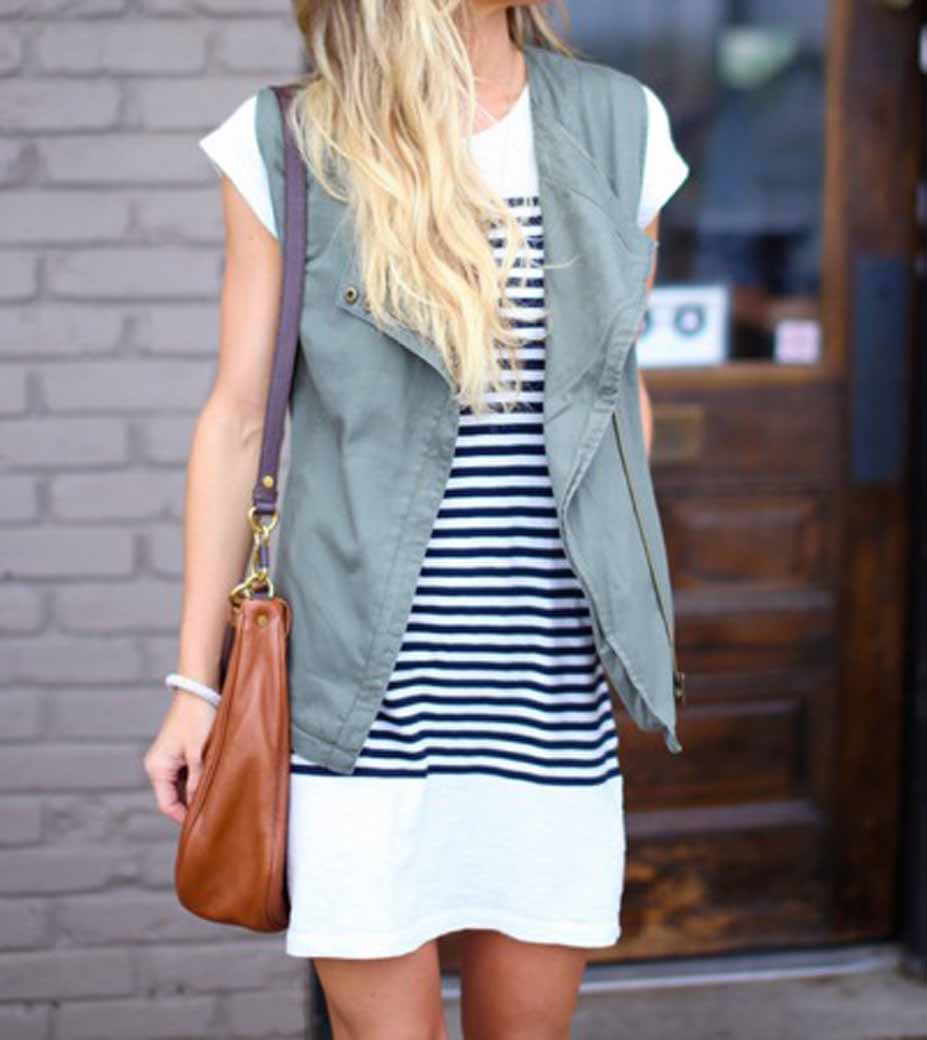 As autumn approaches, we're starting to see a few different shades of green emerge. However, I'm here to say that olive green is a must-have for your fall wardrobe. It's versatile enough to be a staple color to any outfit, and here's why…
Olive green is flattering on almost anyone, and there are so many ways to wear it. A few photos have been included for some outfit inspiration! The first photo shows an olive green pocketed vest paired with a casual black and white striped dress. An olive green pocketed vest is an effortless statement piece that can be thrown on with any earthy toned outfit, from jeans to a dress like this. This outfit can be worn from late summer until the weather gets chilly!
The next photo, from Looktastic, shows a more transitional fall-to-winter look. (But because olive green is a neutral color, it can be worn in any season, no matter the on-trend seasonal color palette.) In this photo, the color exudes a sexier, darker spin when paired with black denim and booties. Finding the right olive green sweater ca
n achieve an earthy and cozy feel, yet still keep you looking chic all at the same time with one piece. One detail that would make this outfit even more stylish is to rock a black lace halter bralette underneath. On the flip side, a creative way to lighten up olive green in any season (even the fall and winter) is to pair it with blush pink or dusty pink! This combination is feminine and romantic while staying within the down-to-earth color scheme.
The third and final look, styled by Polyvore, pairs olive green denim with a simple, flowy gray tee. Olive green and gray is yet another everyday look that's both easy and flattering. If you'd like to add a rustic touch to this outfit, throw on some gold or bronze jewelry. If you're more of a classic gal, wear a long silver necklace or a short silver statement necklace.
To pull this whole fall look together, cognac booties would be the icing on the cake—or should I say the pumpkin in the pumpkin pie! Another idea for when cooler weather hits is to throw on a black cardigan and/or a thin black and white scarf with a pattern. These pieces will add a more dressy, sophisticated feel to your outfit and also provide some contrast against the gray and olive green to really stand out!
I hope you enjoyed this article as much as I enjoyed writing it for you! Let us know what you'd like to read about in the future by commenting on The Grit and Grace Project's Facebook page to suggest future fashion topic ideas. Or, feel free to leave a comment with your suggestion below!
—
The featured image came from WhoWhatWear's lookbook in collaboration with Target. For more articles on beauty and fashion, click here!
#gritandgracelife