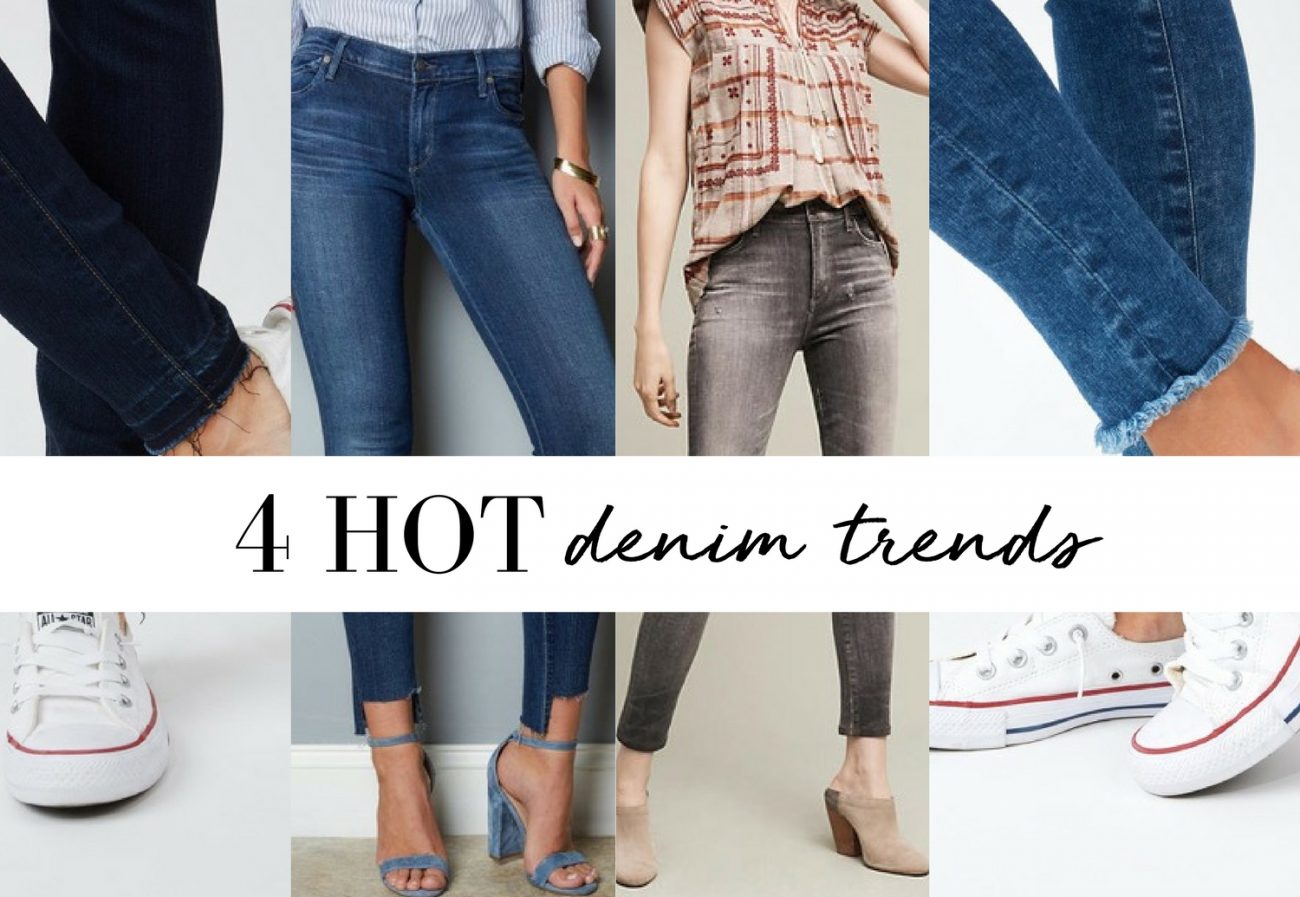 I am so enthralled by the four hot denim trends of 2017! I have never seen such edgy and unique denim trends come alive all at once. Plus, these trends are ones that your kids or significant other may actually like! I don't know about you, but there are some trends that my guy just doesn't get…
Without further ado, here are 4 hot denim trends of 2017:
1. The Raw Hem
The raw hem summons a 60s and 70s vibe—two decades when hemlines were simply deemed nonexistent, according to Donna Ida, founder of denim boutique Donna Ida. In the fall and winter, tuck a thin turtleneck into a pair of raw hem denim for a simple, streamlined 70s look. For a fun and dressier look no matter the season, throw on a feminine ladylike blouse with a pair of bright heels (or trade the heels for flats if heels aren't your spirit animal). You really can't go wrong with your choice of top!

Originally seen at www.evereve.com
2. The Released Hem
If your style isn't edgy enough to fully commit to rocking a raw hem, the released hem may be the perfect denim trend for you. The threads of a released hem rest delicately around the ankle, adding a softer hem interest. To create a chic and edgy outfit for early spring, throw on a blush pink or cream cowl neck sweater with a pair of released hem denim and some booties!

Originally seen at www.evereve.com
3. The Step Hem
The step hem is such a fun denim detail that I would love to see more ladies wearing! The step hem is the jean equivalent to the dramatic hi-lo dress and top style where the front is significantly shorter than the back. The step hem flatters the ankles by highlighting their feminine shape. In order to draw more attention to your trendy hemlines (or should I say, your trendy, nonexistent hemlines), wear fashion sneakers such as Converse on a casual day. For a dressier look, wear pumps, which make a sultry statement when paired with the step hem!
4. The Crop
Compared to the hem trends, cropped denim is a tried-and-true denim style. It's the least risky trend of these four denim trends, and may be a good place to start if your style is more classic. The hem of a pair of true cropped denim hits in-between the top of the ankle and the bottom of the calf. Versatility is one of the major benefits of owning a pair of cropped denim because it can be dressed up or down! For a winter city chic look, throw on a baseball cap, a hoodie with a bomber jacket or a moto jacket over it, and a pair of Converse or other fashion sneakers. To dress up your cropped denim, pair it with a cold shoulder sweater or an off-the-shoulder top for the springtime. Add some heels or flats and you've officially reached "trendsetter" status!
One detail to note is that the raw hem, released hem, and the step hem can get lost on petites because of our shorter legs. The best way for petites to rock these trends is to wear a cropped pant with a raw, released, or a step hem, or try on a pair of regular denim with these hem trends and make sure the hem doesn't get covered by your shoes!
You will start to see these four trends bloom all at once in spring 2017, so don't miss the chance to confidently don your own styled version of one or all of these denim trends!
—
You'll also like How to Wear White Jeans All Year-Round, Why is Premium Denim So Pricey? 4 Things You Need to Know!, The Perfect Tank Top and How to Style It, Now Trending: Lace Bralettes—How To Style Them, and 5 Items You Need For Your Work Wardrobe
#gritandgracelife