Life can be mundane. When we are young, we anticipate the exciting, eventful, purpose-filled existence that we are told is our future. We launch into our 20s with such optimism about our life, yet it doesn't take long for that optimism to wane. We start real life lacking the joy in the everyday.
Beginning our careers, building a promising relationship, getting married, and starting a family look like exciting benchmarks to a fulfilling future. And they are. But they are also the start of real life.
The Frustrations of Real Life
Real life includes challenging coworkers, repetitive work that you find cumbersome, promotions you think should be yours but aren't. Relationships that fizzle or a husband who leaves his dirty laundry on the floor. Children that you delight in that don't let you sleep and throw tantrums—only for it all to repeat each day you awaken.
Sounds discouraging, doesn't it? But it doesn't have to be. And it shouldn't be. Because the milestones we thought was our future doesn't mean it's not as fulfilling. It absolutely does not mean it lacks purpose. And it certainly does not mean it is void of all joy. It's just different than we thought. So, it's our view that needs to adjust along with our life.
You Need to Shift Your Perspective
Real life isn't lived in the highs and lows; it's lived in the middle. Like a weather graph accepting that summer generally feels like summer, spring, winter, and fall do too. Accepting our life is the same is not surrendering to mediocrity—it's embracing the comfort of realistic expectations.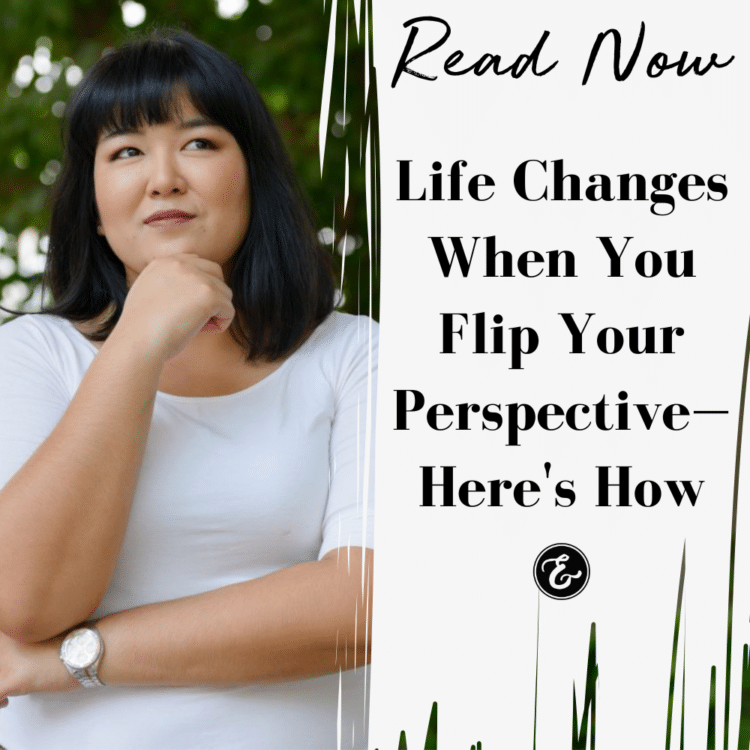 Yes, your 2-year-old will throw tantrums, probably in the middle of the grocery store. But that same child will crawl into your lap and let you know how loved you are. Take joy in that because that same child will not be doing that at 13.
Your husband may be the one who leaves dirty laundry, or dirty dishes, or uses all the hot water. But he will also be the one who watches a romcom with you or makes your coffee or simply asks how you're doing. And ladies, you need to tell him—honestly, kindly. Often, he will want to fix it. You may not want him to, but it shows he cares. Take joy in the man you married, the care he offered then and now, the reason he became yours in the first place. Then just pick up the clothes!
The job you thought would be your dream job feels like a bad fit. Or you never were able to get that position and settled for something else. Yet you have made one of your dearest life friends at that workplace. You have learned what you are capable of as well as what your talents may not be. Take joy in sweet things, the abilities you've gained, the relationships you've built. These would not have come without the place you find yourself in at your "everyday job."
Remember Life Changes—And That's Good!
While you settle into realistic expectations, remember life changes. Especially for women. As we say on This Grit and Grace Life podcast—"From the boardroom to the bedroom, carlines to college, being single, married, or single again," this is your ever-changing Grit and Grace Life.
And it's good!
With each change, we grow in wisdom and strength. We can become more confident, content, and fulfilled. With each season we look back on, we'll find accomplishment—personal, relational or professional—which means every season yet to come will also yield something to celebrate. Take joy in that.
There Is Joy in the Everyday—You Just Need to Look
You will find the greatest joy in each day you change your focus. You are making a difference in the lives of the children you love. Your investment in them now will determine your relationship in the future. Delight in in their giggles, their smiles, their warm hugs. Those are in the everyday.
Tell your man you love him and appreciate him because you have spent time thinking about the good things he has done. They are there if you change your view from the floor to his heart.
Embrace the parts of your job you love and do them well. And remember family is forever, but jobs don't have to be. So, part of the change in your life may come in your career.
Get outdoors to see the beauty of God's creation. Take a hike, a walk in the park, or simply sit in the yard. God created the nature around us to sooth our souls. That alone can bring joy to our everyday.
Finally, remember the women who impacted your life—the ones who may have had it harder than we do, yet they left an indelible mark, an example to follow. They were someone who made your life better.
You can be that woman too. It all starts with finding joy in the everyday.
—
If you find that the joys are a little harder to find in your motherhood journey, take heart—other moms have felt the same way. We recommend this podcast episode for encouragement: Motherhood: Struggle Bus or Joy Ride? Or Is it Both? – 187