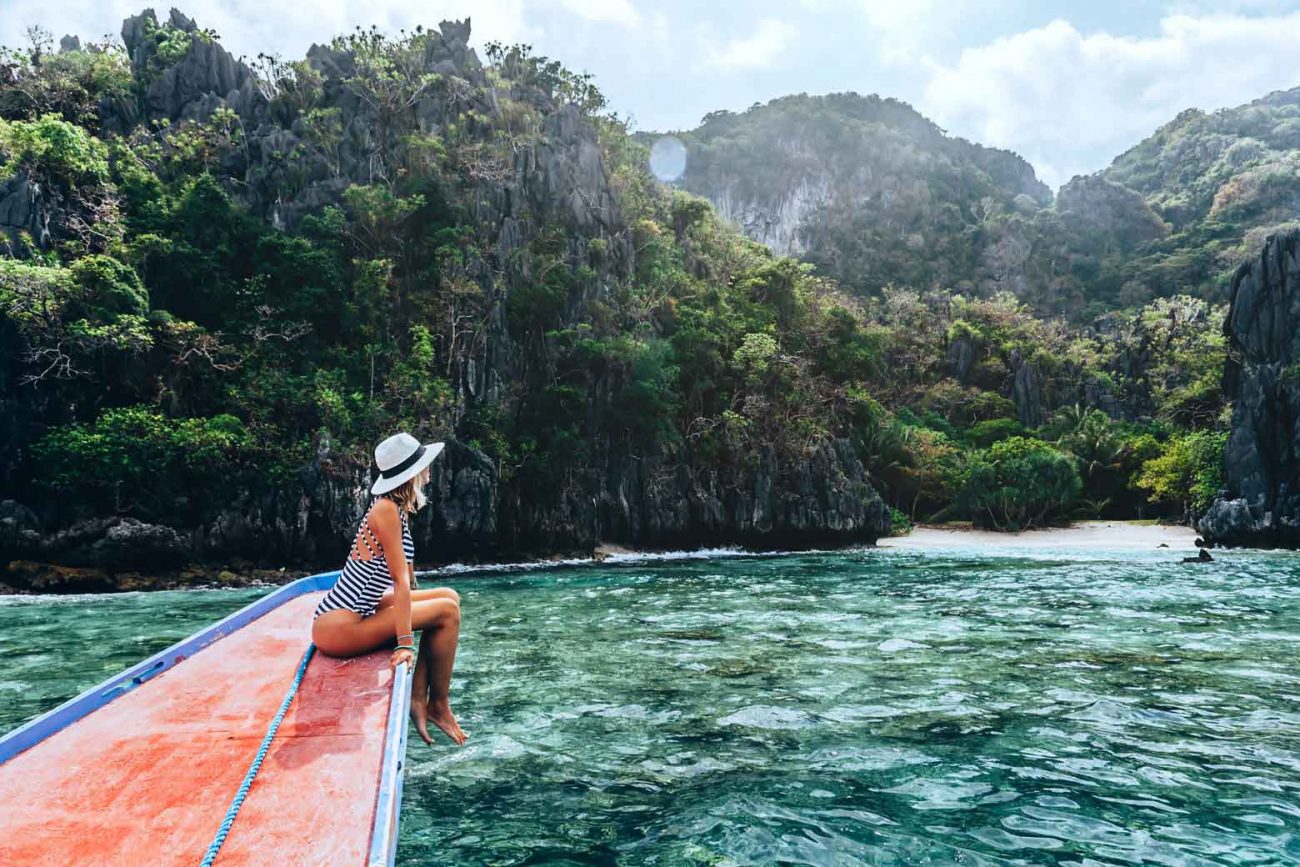 Swimsuit shopping can be a lot like shopping for jeans. We have to do it at some point, but many of us don't want to, especially after the cooler months when we tend to stay inside, watch Netflix, and chill with a glass of wine. On the flip side, finding a new favorite swimsuit feels like a sweet, sweet victory.
The key to nixing the swimsuit shopping stigma is to learn which styles best flatter your body type. (If you aren't sure which body type you have, use this body type calculator to find out.) In order to save you time trying on all the wrong styles, read below to find affordable and investment-worthy bathing suit options for your body type! And remember – every shape is beautiful and unique.
1. Rectangle/Straight and Apple Body Types
Both rectangle/straight and apple body types can rock the trendy, retro inspired bathing suits that have a higher-waisted bottom such as this stylish bikini from Revolve! These higher-waisted bottoms start at the smallest part of the waist, adding shape to the waist and accentuating the hips in a flattering way.
X Revolve 'Nina' Bikini Top ($80) with X Revolve 'Thessy' Bottom ($86)
Top
Bottom
Target Lace Halter One Piece ($39.99)
This adorable Lace Halter One Piece would also look amazing on rectangle and apple shapes! The lace detail feminizes any figure and accentuates the waist by drawing the eyes from the smallest part of the waist up to the collar bones and shoulders.
2. Pear and Hourglass Body Types
This bikini from Lulus is perfect for both pear and hourglass shapes. It allows the waist to speak for itself while the bikini top has some extra detail, highlighting the shoulders and arms. Classic, clean bottoms may work best for pear and hourglass shapes since they don't need extra detail to accentuate the hips.
KOA Swim Lovestruck Reversible Bikini Top ($92) & KOA Swim Forever KOA Burgundy Reversible Bikini Bottom ($70)
Top
Bottom
Asos 'New Look' Tropical Frill One Shoulder Swimsuit ($40)
This sassy one shoulder swimsuit is both affordable and fun! The frill detail adds a delicate touch to this swimsuit and it highlights the shoulders and arms beautifully. Drawing the eyes to the upper body is ideal for pear shapes because fuller thighs look strong and speak for themselves!
3. Athletic Body Types
The most flattering swimsuit style for athletic body types may only depend on the top since athletic body types can sport (see what I did there?!) a variety of bottoms. The high neck detail on this Crochet High Neck Bikini Top would work well on broader, athletic shoulders because it divides the broadness of the shoulders instead of making them look broader than they are. When an asset is more full or broad such as hips and shoulders, it does not need any more accentuating. Instead, these gorgeous assets need a complementary fit.
Crochet High Neck Bikini Top & Keyhole String Bikini Bottom
Top
Bottom
This halter one piece swimsuit adds some glamour to your swimsuit look! This is another swimsuit that softens up broad shoulders and elongates the torso. It also adds shape to the midsection because of the subtle middle seam which rests on the smallest part of the waist.
Lulus 'Get It Right' Black Halter One Piece Swimsuit
4. Full Figure
If you're looking for brands that flatter fuller figures, check out these two options! Be a show stopper in this red number from Asos.
Monif C Red Fringed Bikini Top $28 
Or, the paneling on this one is fun yet still modest and provides full coverage.
Vasiliki Plus One Piece Swimsuit $49 
And by the way, if you're also shopping for jeans, don't miss These 4 Denim Trends are Heading Your Way.
—
You'll also like Summer Style Guide: Five Staples For Head to Toe and The Perfect Tank Top and How to Style It.
#gritandgracelife