Today's culture is experiencing a shift that often runs counter to biblical beliefs. As parents and women of faith, this can create challenges we weren't anticipating. When added to normal parenting duties, this shift can leave us feeling fearful or anxious toward the future our kids will grow up in.
Dr. Jim Denison joins Darlene Brock and Julie Bender on This Grit and Grace Life podcast to discuss how parents of faith can raise their kids confidently in an age where the culture deems biblical values oppressive and outdated. He also shares what parents can pray for, and how they can practically prepare their children to offer love and grace towards others that don't share the same values. We hope this conversation encourages you that your role as a parent in this time and season is not an accident. You are well equipped to handle the task before you.


Dr. Jim Denison is a cultural scholar, pastor, speaker, podcaster and author who helps people respond biblically and redemptively to the vital issues of our day.
He is the co-founder and Chief Vision Officer of the Denison Forum, a Dallas-based nonprofit that comments on current issues through a biblical lens. He is also a cultural consultant for various organizations that seek a Christian worldview on current events.
Prior to launching Denison Forum in 2009, he pastored churches in Texas and Georgia. He holds a Ph.D. and a Master of Divinity from Southwestern Baptist Theological Seminary. Jim and his wife, Janet, live in Dallas, Texas. They have two sons and four grandchildren. You can follow Dr. Denison on Instagram @dr.jimdenison and @denisonforum, or on his website at denisonforum.org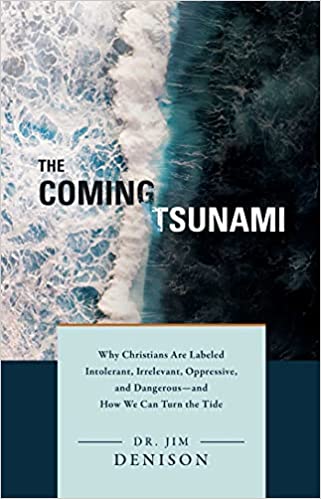 Quote of the episode:
"We're not cultural warriors…we're here to be grace-givers." — Dr. Jim Denison
Resources
—Click here to get your copy of Dr. Denison's book, "The Coming Tsunami."
—Read more about the book here.
—As promised! Darlene and Julie mentioned that city dwellers in the early 20th-century used cages to expose their children to fresh air and sunlight. Here's historic evidence!
Be sure to follow us on social media!
Facebook
Instagram
Twitter
Pinterest
#gritandgracelife
Disclosure: This post may contain affiliate links that at no additional cost to you, Grit and Grace Life may earn a small commission.