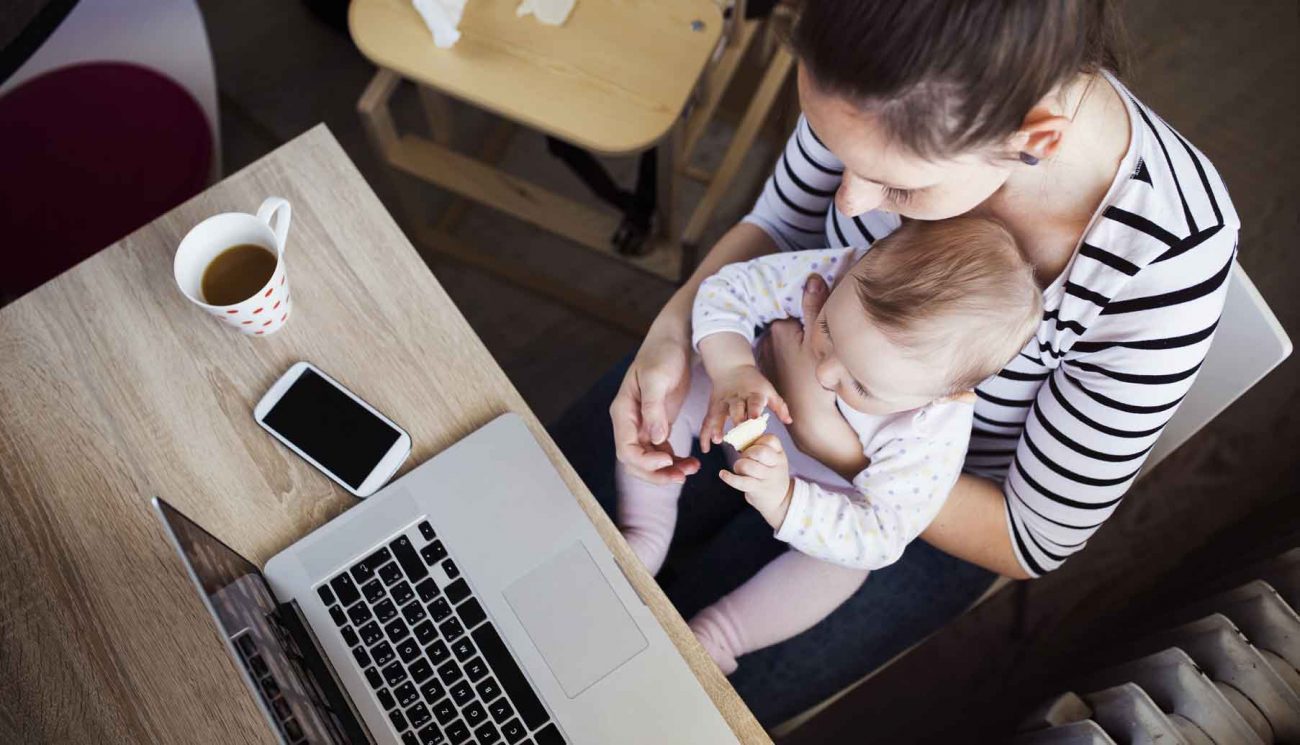 The day we learn we are having a baby, the guilt begins! Can I get an amen?
As a soon-to-be mom, I was worried about what I ate, how I slept, if the baby kicked enough, and if the hair product I used was going to make the baby lose five brain cells. Or, for my adoptive moms: what if I am not supposed to be a mom; what if I don't look like what my baby wants; what if I don't feed this child the right foods? For every mom, the list goes on.
Once that child is in your arms, Lord have mercy! The guilt grows and grows and grows—it becomes like, "If you give a mom something to feel guilty about, she will. And then she will find something else to feel guilty about…" You know the mouse story—it's the same with mom guilt. There are a whole lot of things we say to ourselves because we are so prone to guilt.
Add in the Working-Mom Factor and It Only Heightens
Along comes the working mom and sometimes the guilt is unbearable. It is such a difficult balance between being successful in your career, being the best mom, being the best wife or single mom, and oh, did you forget to take care of you? Well, that is OK because we should feel guilty for taking care of ourselves, right? Wrong.
Yes, momma, it is a tough balance. It is hard to compare yourself to the stay-at-home moms who can cut their child's sandwich into cute shapes or make it to every school event while you have a meeting. I still remember missing one of my children's first days back to preschool because I had to testify in court an hour away from my home. At the time, I was certain they would need to talk about it in therapy one day. In hindsight, I highly doubt my child noticed my absence because she was so excited to see her friends again.
We also compare ourselves to our colleagues without children. Notice how Suzy worked until 9pm on a project when she arrived to work at 8am? You, my friend, had to leave work at 5pm to pick the children up after school. Now, are you going to be overlooked for the promotion? How do you prove to your boss that while Suzy can devote umpteen hours, you are just as capable, if not more, for the job because you can juggle being a mom, employee, boss, and so much more? How many of you put your children to bed and then work after that? Guess when I'm writing this article—yep, after I put my children to bed.
Then there's the guilt for when your child is sick and you have to make the decision to work or stay home with your baby. It is tough. In our house, I am the one with the doctorate and both my husband and I run our own businesses. However, sick kids become my duty naturally. He has taken off one day to my five when our children are ill and that was only because I was under subpoena and not showing up could mean I was given a bench warrant. Children's camps, extracurricular activities, and scheduling—yep, me. What is for dinner tonight? My responsibility. Kids' lunches—me. Kids' clothes—me. Laundry—me. Touring schools to decide where they attend—my research project. And the list goes on.
In all fairness, I have been blessed with a husband who truly enjoys our children and wants to invest in them. However, as a career woman who is also juggling the mom and wife roles on top of volunteering and being on boards, I am determined to be the "perfect" mom, so I feel guilty when he does chores that I have deemed to be mine. I want to be the mom my children need and don't feel like they are missing because she works.
The Pandemic Only Exasperated a Mother's List of Burdens
Then we add a pandemic to this hot mess. How many moms out there are overseeing their children's education—maybe homeschooling, alternating days in school, or attending school in person with masks? So many mothers have taken on this responsibility. This year, for the first time since 1948, female unemployment reached double digits, according to the Bureau of Labor Statistics. This is due to the pandemic and women having to let go of their jobs to care for the children. The pressures of pandemic changes for our children rests mostly on women. This is because historically women make less than men, and if there is someone to stay home with the children, it tends to be the one making less money.
Maybe you are the mom who is working remotely through the pandemic, like me. You are grateful to be able to have a job that you can do from home, but boy is it stressful. I struggle to focus on the Zoom call when my daughter walks in because she can't find the worksheet that I printed out and have sitting on the desk right next to her. Or having to coordinate my break in between patients to her lunch hour so that I can make sure she has her lunch (not cut in cute shapes), all the while being critiqued because I forgot to cut off the crust. It is such a balance!
I share all these stories because the pressure is real. It is hard and you feel like you are failing each and every step of the way. I am here to tell you, you are not. You are doing amazing, momma. It is OK to admit when you need help—let your husband make the lunches even if they are not perfect. It is also OK to say that two letter word, "No." That means "no" to a board meeting, "no" to your child asking you to color a picture when you need to make dinner, or, in the alternative, using GrubHub or the like and coloring the picture instead of cooking.
Let Go of the Guilt and Lean Into Grit and Grace
Work daily to let go of that guilt and need for perfection. Model for your children that their mom can work and not be perfect—
it is OK so that they also learn to not be a perfectionist. When you miss that special activity, ask your friend who is able to go to take pictures and then talk with your child about the activity and provide him individual attention celebrating the moment.
One of my favorite things to do is to check in with my children. Your check-in time can be what works for you: driving them to school, while you are making dinner, or, for me, before bedtime. I ask my children for a good moment in their day. Interestingly, if I listen carefully, many of them involve me. Me, who I see as pulled in a million directions. Me, who I feel am always failing them. Yes, me, their imperfect mom, who is trying her hardest and they notice. I am modeling for them that they can move up the career ladder and be a great mom, and you are too, my friend. It just takes a little grit and grace.
I remember my mom had a book on her shelf about the dangers of daycare for children. Guess what? She was a stay-at-home mom. She has been in heaven four years now and every time I walked past that book, I felt bad. So guess what I did this summer? Threw that garbage out. Yes, I did. Clearly that title was not helping me.
I share this because the only one who is tortured by your guilt is you. You may need your job for many reasons—financial, independence, self-confidence—whatever the reason, it is OK to work and be a mom. It does not make you less than others, and if anything, it offers your children the knowledge that they can accomplish all their dreams, too.
So mom, relax and give yourself some much needed grace. You have more grit than you will ever realize and your babies see it and are amazed by you.
—
Mommas, check out these other articles to be encouraged:
You Don't Have to Be Perfect to Be a Great Mom
How to Make Memories With Your Kids When You Work Full-Time
Sure, It Was a Disaster… But Not a Failure
To the Mom Who Feels Guilty for Sitting on the Job
Moms Do It All and This Is How They Are Compensated
5 Simple Ways to Balance Mom Life
Don't miss these popular articles:
We've Been Dating Forever and He Still Hasn't Proposed? (video)
When Your Best Friend Breaks Up With You
My Life Isn't Insta-Worthy But I Love It All the More
Ask Dr. Zoe – Embrace Confrontation, Even When You Fear Rejection
#gritandgracelife
You'll love this podcast episode from This Grit and Grace Life: Stop the Mommy Wars: Every Mom Is Doing Something Right – 045