I'm always surprised at how much our past can follow us around. It shows up when we are weak or vulnerable and often pokes at us when our guard is down.
For me, my past resulted in a heart filled with shame. It came to visit me for the first time when I was 5. It started as an innocent hug and progressed to repeated betrayal. He was old enough to be my grandpa, a neighbor that could not control his brokenness and obsessions. I was left with this overwhelming sense that I had done something wrong, and doing something wrong turned into being someone wrong, and that leaves a lasting impression on a young heart.
Shame: A Repeat Visitor
Shame visited me several times after that initial encounter. The consequences of my foolish 20-something decisions, a failed first marriage, and the nagging negative feelings of years of infertility. In an attempt to protect my bruised heart, I built a wall made of all the shame-producing experiences and mortared each brick with the plaster of, "I should have done more."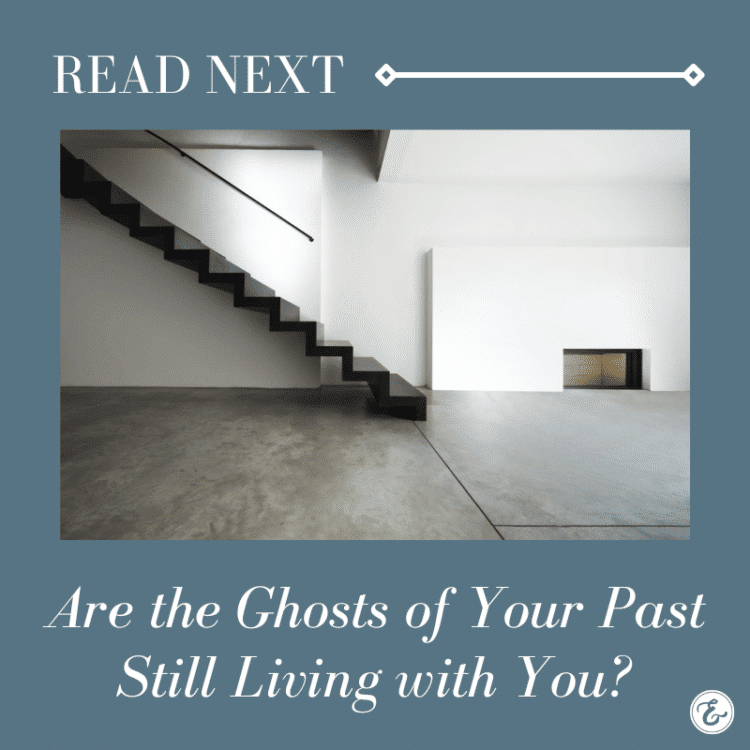 Please understand, it's not like my adult brain doesn't know that at 5, I was not responsible for an old man's unreconciled passions. And I am painfully aware that I could not heal my biological limitations. No, it's more that I feel that I should have been able to fix it. Fix all of it, the little girl who lost her faith in adults, the disappointments, and every hurtful word I told myself and those told to me.
Over time my wall grew taller and wider until it finally engulfed me. I was left with only distortions of the truth and a desperate wonder of how I can let go and move past my past.
I recently shared my situation with a friend and she looked at me with an inquisitive stare. She allowed me to go on for a few minutes longer and then she offered, "You don't seem like the type of person that would allow their past to control them. I think it's time you give yourself a break and let go." I looked at her and asked, "How? How do you let go of years of engrained shame?" Even though my head knows the distortions are not true, my heart is holding on and, in this situation, my heart is winning.
Pastor and author Jason Vallotton shares, "Given an opportunity, shame will mask itself as your best friend, and it will convince you that it is only there to help you."
Are You Keeping Your Past in the Present?
As you think about how you navigate this world, how are doing with keeping your past in the past? Do you need to give yourself a break and let go? Has shame become a best friend?
To help us move beyond the entanglement of shame, I think we need to get really clear about what shame is and what it isn't.
According to Kristalyn Salters-Pedneault, a clinical psychologist and associate professor of psychology at Eastern Connecticut State University, shame is defined as "a feeling that your whole self is wrong, and it may not be related to a specific behavior or event."
She goes on to suggest that we need to be very clear about the difference between shame and guilt. She offers this definition of guilt: "a feeling you get when you did something wrong or perceived you did something wrong."
Guilt offers a resolution. We can ask for forgiveness, pay restitution, or take concrete steps to make it right. And once those actions or steps are taken, we can move forward. Guilt allows for closure.
Shame, on the other hand, convinces us that we are the thing that's wrong and provides no clear path to addressing our feelings. It also causes us to engage in negative self-talk. The words I told myself as a child and young adult reinforced my feelings of being wrong and resulted in a vicious cycle that intensified my shame.
So, guilt says you made a mistake.
Shame says you are a mistake.
Guilt can help to motivate us.
Shame tends to annihilate—crush or conquer—us.
Guilt vs. Shame: Which One Is Informing You?
What about you, are you drowning in a flood of shame or are you being refreshed by guilt's provision of a healthy glimpse into your motivations? Which emotion drives your behavior? Which one forms your perspective? How are you doing with teasing apart the difference between a healthy path and one that can crush your spirit and negate God's truth?
If you are ready to tease apart guilt's benefit from shame's destruction, consider these five steps from Tristen and Jonathan Collins' book, Why Emotions Matter: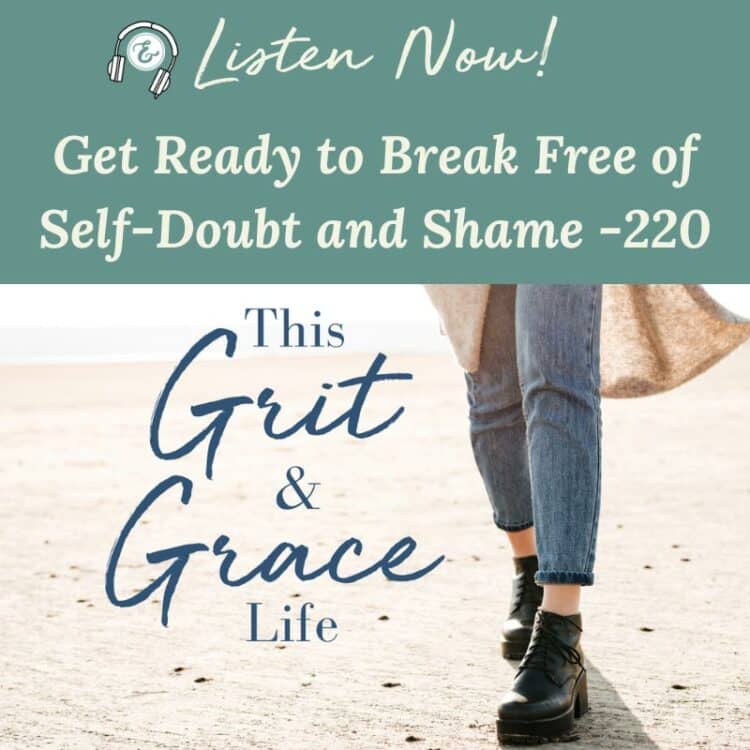 Step 1: Name the shame. The simple act of identifying the emotion teaches our brains to recognize it.  There is no standard way for shame to manifest itself. It looks different in different people. So, we have to be aware of our unique emotions.
Step 2: Summon courage. In the seconds following recognition, we need to find the courage to stand up to the sense of shame and not retreat into unhealthy behaviors. Joshua 1:9 (Amplified Version) reminds us, "… Be strong and courageous! Do not tremble or be dismayed, for the Lord your God is with you wherever you go." God offers the courage needed to face our shame.
Step 3: Step outside ourselves. Look at the situation calmly and objectively. 2 Timothy 1:7 (Amplified Version) encourages us, "For God did not give us a spirit of timidity or cowardice or fear, but of power and of love and of sound judgment and personal discipline [abilities that result in a calm, well-balanced mind and self-control." 
Step 4: Share our shame with God. Simply tell God what you are feeling. Reflect on if your emotions are consistent with how God sees you. 1 Corinthians 3:16-17 (The Message) reminds us, "You realize, don't you, that you are the temple of God, and God himself is present in you? No one will get by with vandalizing God's temple, you can be sure of that. God's temple is sacred—and you, remember, are the temple." 
Step 5: Share our shame with others. Share your thoughts with someone you trust and that can be empathetic to your situation. James 5:16 tells us, "Therefore, confess your sins to one another and pray for one another, that you may be healed. The prayer of a righteous person has great power as it is working."
Shame doesn't have to be a trap to keep you imprisoned in your past. It can act as a bridge allowing you to cross the gulf of destructive thoughts and rest in God's truth. You are a precious daughter of a living King and he will give you the courage and strength to let go and move past your past.
Scripture References to Help You Find Freedom From Your Past
1 John 1:9
If we confess our sins, he is faithful and just to forgive us our sins and to cleanse us from all unrighteousness.
John 3:17
For God did not send his Son into the world to condemn the world, but in order that the world might be saved through him.
Psalm 40:11-12
As for you, O Lord, you will not restrain your mercy from me; your steadfast love and your faithfulness will ever preserve me! For evils have encompassed me beyond number; my iniquities have overtaken me, and I cannot see; they are more than the hairs of my head; my heart fails me.
Philippians 4:13
I can do all things through him who strengthens me.
2 Corinthians 5:17
Therefore, if anyone is in Christ, he is a new creation. The old has passed away; behold, the new has come.
1 John 2:2
He is the propitiation for our sins, and not for ours only but also for the sins of the whole world.
Psalm 91:1-5
He who dwells in the shelter of the Most High will abide in the shadow of the Almighty. I will say to the Lord: "My refuge and my fortress, my God, in whom I trust." For he will deliver you from the snare of the fowler and from the deadly pestilence. He will cover you with his pinions, and under his wings you will find refuge; his faithfulness is a shield and buckler. You will not fear the terror of the night, nor the arrow that flies by day…
2 Corinthians 5:21
For our sake he made him to be sin who knew no sin, so that in him we might become the righteousness of God.
2 Corinthians 7:10
For godly grief produces a repentance that leads to salvation without regret, whereas worldly grief produces death.
John 3:16
For God so loved the world, that he gave his only Son, that whoever believes in him should not perish but have eternal life.
Isaiah 1:18
"Come now, let us reason together," says the Lord. "Though your sins are like scarlet, they shall be as white as snow; though they are red like crimson, they shall become like wool."
Hebrews 8:12
For I will be merciful toward their iniquities, and I will remember their sins no more.
Hebrews 10:22
Let us draw near with a true heart in full assurance of faith, with our hearts sprinkled clean from an evil conscience and our bodies washed with pure water.
Romans 10:11
For the Scripture says, "Everyone who believes in him will not be put to shame."
Proverbs 28:13
Whoever conceals his transgressions will not prosper, but he who confesses and forsakes them will obtain mercy.
James 5:16
Therefore, confess your sins to one another and pray for one another, that you may be healed. The prayer of a righteous person has great power as it is working.
Psalm 32:5
I acknowledged my sin to you, and I did not cover my iniquity; I said, "I will confess my transgressions to the Lord," and you forgave the iniquity of my sin.
2 Corinthians 3:17
Now the Lord is the Spirit, and where the Spirit of the Lord is, there is freedom.
Hebrews 4:16
Let us then with confidence draw near to the throne of grace, that we may receive mercy and find grace to help in time of need.
Galatians 5:1
For freedom Christ has set us free; stand firm therefore, and do not submit again to a yoke of slavery.
Psalm 34:4-5
I sought the Lord, and he answered me and delivered me from all my fears. Those who look to him are radiant, and their faces shall never be ashamed.
Psalm 25:2-3
O my God, in you I trust; let me not be put to shame; let not my enemies exult over me. Indeed, none who wait for you shall be put to shame; they shall be ashamed who are wantonly treacherous.
Romans 5:8
But God shows his love for us in that while we were still sinners, Christ died for us.
Isaiah 43:25
"I, I am he who blots out your transgressions for my own sake, and I will not remember your sins… "
John 8:36
So if the Son sets you free, you will be free indeed.
Isaiah 54:4
Do not be afraid; you will not suffer shame. Do not fear disgrace; you will not be humiliated. You will forget the shame of your youth and remember no more the reproach of your widowhood.
1 Corinthians 10:13
No temptation has seized you except what is common to man. And God is faithful; he will not let you be tempted beyond what you can bear. But when you are tempted, he will also provide a way out so that you can stand up under it.
1 John 2:1
My dear children, I write this to you so that you will not sin. But if anybody does sin, we have one who speaks to the Father in our defense—Jesus Christ, the Righteous One.
Micah 7:19
You will again have compassion on us; you will tread our sins underfoot and hurl all our iniquities into the depths of the sea.
Romans 3:23
For all have sinned and fall short of the glory of God.
Acts 3:19
Repent, then, and turn to God, so that your sins may be wiped out, that times of refreshing may come from the Lord.
Isaiah 50:7
Because the Sovereign Lord helps me, I will not be disgraced. Therefore have I set my face like flint, and I know I will not be put to shame.
Hebrews 10:15-18
The Holy Spirit also testifies to us about this. First he says: "This is the covenant I will make with them after that time, says the Lord. I will put my laws in their hearts, and I will write them on their minds." Then he adds: "Their sins and lawless acts I will remember no more." And where these have been forgiven, there is no longer any sacrifice for sin.
John 3:18
Whoever believes in him is not condemned, but whoever does not believe stands condemned already because he has not believed in the name of God's one and only Son.
Romans 10:9
That if you confess with your mouth, "Jesus is Lord," and believe in your heart that God raised him from the dead, you will be saved.